Joysticks for industrial and medical applications
Joysticks play a central role as input devices in operating concepts at the interface between man and machine. They are used in many industrial applications, such as robotics, cranes, agricultural and forestry machinery, construction machinery, medical technology, as well as for controlling mobile machines and industrial production lines. Due to the often harsh environmental conditions, an industrial joystick must have robust and long life characteristics to minimize failures.
The joysticks offered by MEGATRON use modern non-contact Hall sensors or high-quality potentiometers. Our industrial joysticks are characterized in particular by high-quality components and construction, which guarantee a long-lasting and reliable function. For this wide range of possible applications and their diverse joystick requirements, MEGATRON offers matching solutions.
Thumb joysticks for portable devices or panel integration, finger joysticks for sensitive control tasks, hand joysticks for use in the harshest environments and joysticks in ergonomic desktop housings with integrated buttons for additional functions. In this way, we serve a wide range of customer requirements and at the same time respond to individual demands through internal development, production and quality assurance, offering customer-specific solutions.
---
---
Applications for joysticks - the right design choice
To define the best joystick for your application, the first step is to choose the size. In most cases, this will already allow you to narrow down the pre-selection of products. The designs of the various joysticks can be divided into the following categories: Thumb, Finger, Hand and Desktop Joysticks. Since each of these sizes was developed for fundamentally different applications, selecting the right type is usually straightforward.
Thumb joysticks are the smallest type
A classic application is remote controls, where an operator has to hold a housing in place, leaving his hand free for the input movement. The control is therefore typically done with the thumb. Thumb joysticks are also installed in control panels or in large handheld joysticks because space is often limited and the dimensions of thumb joysticks are not much larger than those of buttons and switches.
Finger joysticks are the all-rounders in the medium-size range
These joysticks provide the user with the highest operating precision due to the fact that the human fingers or fingertips can exercise the best control when operating the handle. The application possibilities are very diverse and therefore the variety of finger joysticks is also the largest. It is in applications for control of medical equipment, surveillance cameras or mobile machines that this design shows its strengths.
Hand joysticks represent the largest type
In general, it can be said that the mechanical stability increases with size. However, the application also places increased demands on the product. Hand joysticks are therefore used in the heavy-duty sector for controlling cranes, construction machinery and other large vehicles and systems. Here the safety requirements are particularly high and usually redundant electronics and sensor technology is necessary. Accordingly, investment costs increase with the size of the joystick.
Desktop joysticks represent a special group
As a rule, these are integrated finger joysticks in desktop housings, which usually offer a few buttons for additional functions in the housing. These input devices cover the rather large demand for stationary applications with already permanently installed finger joysticks. The area of video surveillance is particularly worth mentioning. Nowadays only USB variants are of importance here, because the input information is usually transferred immediately to a computer.
---
The selection of the available degrees of freedom
Each joystick model has certain limitations regarding the available number of degrees of freedom and the freedom of movement for operation. The degrees of freedom are called axes for joysticks. Most models offer 2 axes, i.e. the handle can be moved in X and Y direction (forward/backward, left/right). In addition, the handle can also be rotated in some models. This is called the Z-axis and allows the input of a total of 3 degrees of freedom in simple designs.
Most thumb joysticks offer a maximum of 2 degrees of freedom. Many finger joysticks are available as 3-axis joysticks. However, even more axes can be implemented for hand joysticks. In the head plate of these joysticks there is space for a lot of input elements and thus for additional degrees of freedom.
An exception to the range is our SpaceMouse® Module: here the control handle can be deflected in all three directions - in addition, tilting/rotation of each direction is possible. This results in a total of 6 degrees of freedom, allowing direct, intuitive navigation and control in 3-dimensional space.
---
Axis configuration - limiter selection
The freedom of movement of the main axes can be restricted in almost all models. In some applications, when the first axis deflects, the second axis should be blocked ("plus" limiter). In other cases the simultaneous deflection should be possible only to a reduced extent (round limiter). The square limiter offers full freedom of movement. Some hand joystick models offer the possibility of locking in the middle or at deflection. For this, see the section "Reset characteristics and haptics".
---
The handle - interface to the user
The configurability of the handles increases with the size of the model. Thumb joysticks offer many handle shapes and a few offer the possibility to switch with pressure on the handle.
With finger joysticks, the variety increases further and several push buttons are already possible.
Hand joysticks offer the largest variety of handle options. In fact, almost all models are customized for the application. The configurability is usually higher than indicated on the data sheets. Feel free to contact us to get the best solution for your application!
---
Selection of sensor technology
Contactless, potentiometric or by switch?
Two technologies are of importance for industrial joysticks today: Hall sensors and potentiometric sensors.
Hall sensor technology is a contactless technology in which the sensor detection of the deflection is contactless. This has the advantage that there is practically no wear and tear and therefore no change in sensor behaviour over the entire running time.
If there are no particular reasons for excluding this technology, such as strong electromagnetic interference in the application environment, Hall sensors are usually chosen.
Potentiometric sensors use wiper and resistance elements for sensory detection. Only high-quality, so-called precision potentiometers meet the most demanding requirements for quality and lifespan. The advantage of this technology lies in its insensitivity to external interference fields. Joysticks with potentiometric sensors are particularly popular in medical technology, where the requirements for immunity to X-rays, other interference fields and electrostatic discharges are very high.
If a continuous output signal between minimum and maximum deflection is not required in applications, switch sticks are a good choice. These are only equipped with switches that detect the deflection of the joystick. Thanks to their simple and straightforward design, switches are very insensitive to interference and disturbances. However, the number of switching operations is limited and usually results in a shorter lifespan. A special situation is the use of switch sticks for switching high currents directly via the joystick, which otherwise has to be done with an external relay.

In general, it should be noted that the sensor technology used does not say anything about the quality and durability of the joystick's mechanics. It can happen that the mechanics of low-cost components fail long before the sensors, so the sensor technology should not be overrated. In uncomplicated cases we recommend compact Hall joysticks, as these are the easiest to integrate today and are suitable for most applications.
Safety-critical applications often require redundant designs with two sensor elements per axis. Almost all of our models are optionally available as redundant versions.
---
Return mechanism and haptics
As a rule, the application determines whether the joystick should return to its initial position when not actuated (by spring return) or whether it should remain in the last position in one or more deflection directions (friction brake, optionally also by detent positions).
Most modern joystick models are equipped with a central spring. This spring returns the operating lever to the middle position for both deflection directions. The strength of the spring can be adjusted. For constructive reasons, no further adjustments such as an additional friction brake can be implemented.
If the application requires friction brakes or detent positions, special models must be used, whose design is larger and more complex, but which are therefore more flexible for such adaptations.
---
Outputs and interfaces - analogue or digital?
Almost all joystick models offer analogue voltage outputs in the range of 0-5 V. These are usually the basic versions of the products and accordingly the most economical versions. Since potentiometers are basically passive components, joysticks with potentiometric features usually only offer analogue outputs. For some models only analogue versions are available, which are sufficient for most applications. Modern models with non-contact sensors offer additional digital interfaces, such as pulse width modulation (PWM), USB, RS232 (serial) and CAN bus variants. The interfaces offered are very different and are only listed for certain series. Therefore, it pays off to look only at these products when an interface is specified.
---
Depending on the sensor technology used, the evaluation electronics must be designed very differently. Hall-effect joysticks use integrated circuits as sensor elements, which are installed on printed circuit boards within the housing of the joysticks. Depending on the circuit board design, different operating parameters must therefore be observed, which can be found on the data sheet. This therefore also applies in general to the bus systems offered.
In potentiometric models with analogue outputs, however, the angle sensors are passive components (conductive plastic potentiometers) and the models are usually not equipped with control electronics. The connections lead directly to the potentiometers, which must be operated in a voltage divider circuit in order not to damage the sensors. Please take special care that no relevant current flows through the outputs, as this could damage the potentiometer wipers.
---
Vibrations, mechanical overload, heat, aggressive substances, etc. can endanger the operational safety of input elements. The resistance of the individual models varies greatly and generally higher prices are justified by higher resistance or by better technical specifications.
In general: The specified protection classes are indicated above the panel. If moisture is expected below the seal, products that allow optional sealing of the electronics must be selected. Please contact us if you have this requirement.
The specified operating temperatures are used as reference values for the recovery properties of the mechanics and for the elastomers used for the sealings, but also for the electronic components. Most joysticks also function at lower temperatures than those specified in the data sheet. Especially for safety-relevant applications we advise against operating the joysticks outside these limits.
---
Most models can be mounted into a panel from above. Typically, the base, the joystick pot, is round and is fixed by 4 screws. On some models, the handle fits through the recess in the panel and can therefore also be installed in the panel from below. Depending on the degree of protection and the general type of construction, the covers of the mechanics (rubber bellows) are either screwed together with a cover ring to form a seal or separate seals are supplied to ensure the seal in the panel.
---
We at MEGATRON have decades of experience as a reliable partner for industrial and medical technology customers. Our particular strength is the customization of products. Especially the optimal adaptation of our joysticks to the application is in demand for small to medium quantities, as niche markets are often served here.
Joysticks offer a variety of customization options. Depending on the feature that is to be modified, these adaptations can already be carried out for small quantities. Please contact us and describe your request - we will find the best solution for your application.
---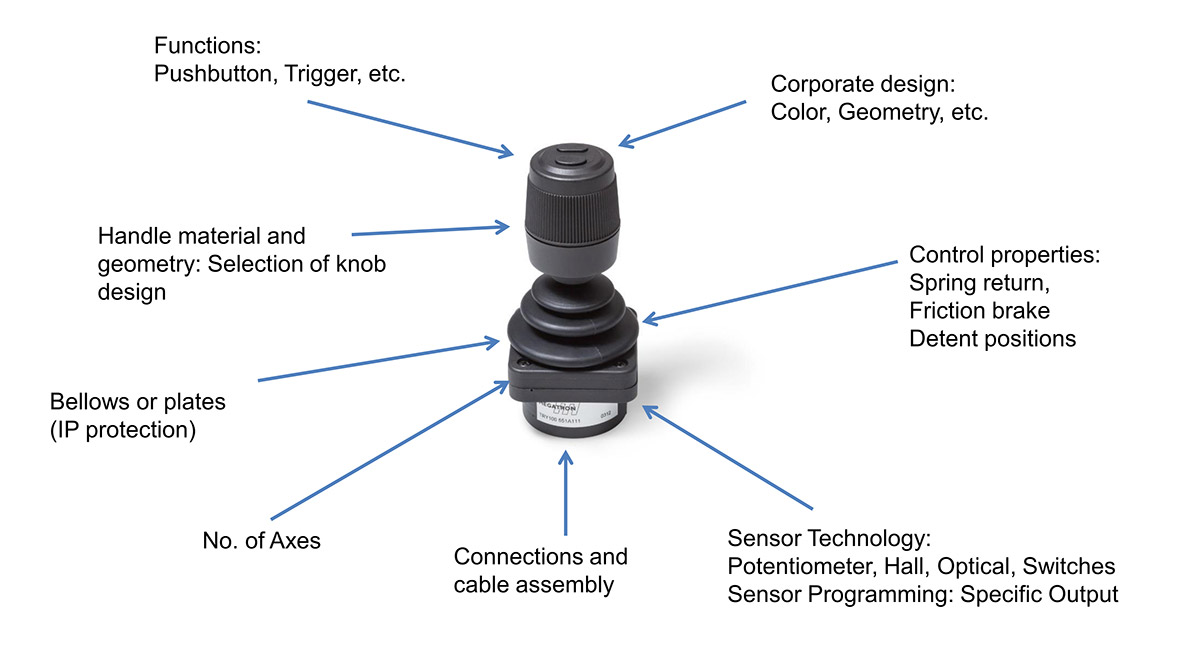 ---
Modern industrial joysticks are mostly modular systems. This enables relatively cost-effective adaptation of the joystick to the application, since individual components can be easily exchanged during assembly. The availability of the components depends on market requirements and defines what is a standard or a special variant. Thanks to the modular system, the effort required for customer-specific special designs is kept within limits, as only individual modules need to be adapted or redesigned.

One thing that modular systems and joysticks with many variants have in common is that the abundance of options makes it practically impossible to represent every possible electrical and mechanical combination or even to stock it as a physical article. This is because the total number of all products that can be generated by the order key results multiplicatively from the choices for each module of the construction kit. Particularly in the case of highly customizable product series with many options, the article diversity amounts to several hundred to a thousand variants that result from the combinatorics of the order code. For this reason, we have highlighted those product options in the data sheet for some series that have a high level of acceptance on the market and declared them as standard.
The selection options of the joystick features are electrical or mechanical adaptations. In addition, we realize product customizations that go beyond the options in the order code and give examples of other possibilities. It is the ability to optimize the offer to the requirements of the application that distinguishes us.
The prerequisite for this is to know the application and the field of application as well as possible. Only in this way can we analyse the product you are requesting in terms of its technical possibilities as well as its economic implementation. Within the scope of our consulting, we determine the best product with regard to your application requirements and, if necessary, suggest alternative products if they offer advantages for you from an economic as well as a technical point of view.
---
Mechanical and electrical optimizations
Cable and connector assembly
Save time and effort by receiving your product already with its final cable confection, suitable for integration in your production line without additional effort from your side. Please tell us the requirements regarding environmental conditions and installation situation - on request, we will take over the preparation of the technical documentation, the operational procurement and the implementation for the assembly of cables and connectors for the offered part.
---
Optimization of the handle design
A wide selection of knob variants is available for our joystick series to optimize the feel of your application. But we also implement an adaptation of the handle shape according to the customer's wishes. On request, we will prepare design proposals and procure all the necessary components to realize the ideal product for your application.
---
Hall joysticks and models with optical sensor systems in particular use modern programmable integrated circuits (ICs) with which the signal behaviour of the joystick can be optimized for the application: for example, the response behaviour when deflected from the centre position (dead zone, see illustration) or the change of the signal span at the output. We analyse the technical conditions under which special programming is possible in series production and produce prototypes for your application. Depending on the possibilities, the joysticks are reprogrammed during the production line or separately with specially created production equipment.
---
Adaptation of colour and shape
As a control element, the joystick interface is very often in the central field of vision of the application. Therefore, the recognition value is of high importance. We take over the corresponding corporate design according to your specifications. Using 3D printers, printed prototypes can be produced promptly for sampling and the ideal shape can be found in a relatively short time. With a corresponding number of pieces, the design can be realized cost-effectively by injection moulding.
---
Customization of haptics and operating feel
The operating feel in the application is significantly influenced by the shape and material of the handle, but above all by the force required for deflection. A high return-to-centre force, for example, can lead to faster operator fatigue than a low restoring force. However, a relatively high restoring force usually supports precise control of the machine. As always, the right choice depends on the requirements of the application and as long as the design of the joystick allows for an adjustment of the spring, it is a manageable effort. Simply contact us to find out about the possibilities with the joystick model you favour.
---
Customization of input elements
Another common customization is the optimal attachment of additional functions in the handle of the joysticks. Numerous joysticks already offer a wide range of choice. Basically, the number of elements to be accommodated is limited by the possible space in the knob and the number of electrical cables to be routed into the base. Together with you, we determine the possibilities according to your requirements and, if necessary, produce customized designs in order to implement the required operating functions in the best possible way.
Scroll
SpaceMouse® Module
Intuitive control of complex 3D movement with one hand only
Intuitive control of complex 3D movements (6 DOF, degrees of freedom)
Optimized industrial version
Optoelectronic sensor: contact-less and linear
UART (serial) or USB interface
Finger Joystick TRY100
Almost all application needs combined in one joystick series thanks to the extensive selection of handles, limiters and output options
Variety of handle shapes
Good cost/performance ratio
Installation depth from 26 mm
1 to 3 axes
Optional redundant Hall sensors
Optional with digital interfaces (CANopen, CAN J1939, USB)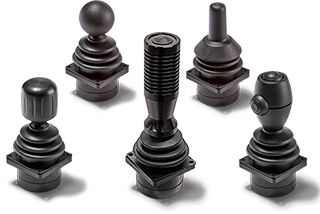 Finger Joystick Series 844
Very robust joystick in variety designs with minimal installation depth - the miniature heavy-duty joystick
Very robust joystick
Exceptional electromagnetic compatibility (EMC)
Small installation depth of < 20 mm
Wide selection of configurations/handles
Reliability through redundant Hall sensors (optional)
Contact-less, wear-free Hall effect technology
SIL 2 / PL D capable
Finger Joystick TRY120
Robust finger joystick for use in demanding outdoor and mobile applications.
Rugged finger joystick ideal for mobile vehicle applications
Easy to service due to plug connection
With Hall sensors, optionally redundant
Also with digital interfaces (CAN J1939, CANopen, USB)
Shallow installation depth < 26 mm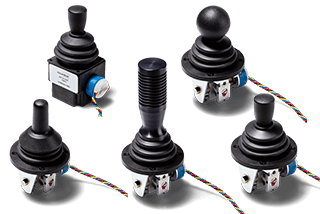 Finger joystick 842
Robust potentiometric joystick in a variety of designs - compact but flexible
Very robust potentiometric finger joystick with metal mechanics
Wide range of knobs
Degree of protection up to IP65 above panel
Inherently robust towards electromagnetic interference
Custom versions possible with friction brake for one axis, spring return for the second axis
Microswitches for detecting the central position/deflection optional
Customer- specific billet shapes, bellows and sensors on request
Switchstick Series 851
Economical switch stick for one- or two-dimensional control
Stable stainless steel shaft
Small installation depth < 24 mm
Spring return to center position
IP class 65 (above panel)
Good cost/performance ratio
Finger Joystick Series 847
Single axis joystick with modern look and feel with soft-touch surface and state-of-the-art technology
Reliability through redundant Hall sensors
Protection IP67
Handle details in 5 colours
Mounting depth 5.8 mm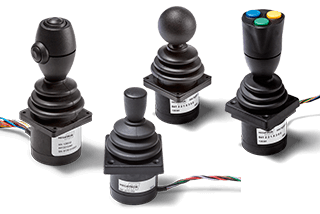 Switchstick Series 841
Rugged switchstick for 1 to 2 axes with high quality switches for various switching scenarios
Particular robust switchstick
Single step or progressive switching
Switching up to 1 A with gilded contacts
Center detect switch optional
Protection up to IP65 (above panel)
High lifespan
Large selection of handles, also with push buttons
Finger Joystick TRY22
Industrial joystick for three axes of the highest quality in terms of mechanics, materials and workmanship
Exceptional quality of mechanics and sensors
For demanding applications
Contact-less, wear-free Hall Effect technology
Redundant outputs available
Protection available up to IP65 (above panel)
Miniature Switchstick Series 821
Very compact, premium switchstick for 1 to 3 axes and up to 6 micro switches
Exceptional quality of mechanics and sensors
For demanding applications
Protection of IP54 above panel (only X and Y axis)
Smallest dimensions with highest life-time
Small handle deflection
With up to 6 micro switches
Miniature Joystick Series 828
Very compact premium finger joystick for 1 to 3 axes for safe operating feeling and convincing haptic
Exceptional quality of mechanics and sensors
For demanding applications
Protection up to IP54 (above panel)
Smallest dimensions with highest life-time
Small handle deflection
Integrated conductive plastic potentiometer sensors
Finger Joystick Series 826
Premium finger joystick with highly customizable sensor technology
Exceptional quality of mechanics and sensors
For demanding applications
Conductive plastic potentiometers mounted outside of the housing
Various configurations possible for switches, detent positions, etc.
X and Y axis can be configured differently
Friction clutch for one axis, spring return for the other axis possible
Protection up to IP65 (above panel)
Finger Joystick Series 829
Joystick of the highest quality with 1 axis for controlling one-dimensional parameters
Exceptional quality of mechanics and sensors
For demanding applications
Optional Hall Effect or potentiometer sensors
Diverse configuration options for micro switches, detent positions, etc.
Thumb Joystick TRY20
The smallest 3-axis joystick on the market thanks to the rotatable knob
3 axes due to rotatable knob (2-axis version optional)
Particularly low height above the panel (21 mm without seal, 28 mm with seal)
Outstanding quality of mechanics and sensors for many years of reliable operation
Contactless, wear-free Hall sensor technology for consistent signal quality over the entire service life
Redundant output signals optionally possible for particularly safety-critical applications
Thumb Joystick PW30
Proportional rocker input element with conductive plastic potentiometer or Hall sensor
1 axis rocker (proportional output, non-latching)
Potentiometer or Hall sensors
Spring return to centre (or to end position on request)
Ergonomic handle design
Optionally redundant
Thumbwheel TRY13
Small thumb wheel joysticks with Hall sensors
Ergonomic thumb wheel / Single axis joystick
Up to 5 million cycles
Contactless, wear-free Hall sensor joysticks
With spring return
Sensitive response to user operation
Wheel available in colours red, grey, black or blue
Thumb Joystick TRY13m
Miniature single axis joystick - the smallest thumb wheel joystick
1-axis miniature joystick / Thumb wheel
Return-to-centre (spring return)
Hall-effect sensor with proportional signal output
Easy snap-In mounting
Optionally PWM signal available
Thumb Joystick TRY14
Modern miniature thumb joystick with a broad selection of handles and options
Broad selection of handle shapes
Good cost/performance ratio
Installation depth from 13 mm
Contactless Hall sensors, optionally redundant
Waterproof, IP class 68 (1 metre) / or even resisting steam jets (IP69K)
Optional dual outputs, or even redundant with independent power supply
Pushbutton in handle available
Analogue voltage output, PWM or USB interface
Hand Joystick Series 871
Hand joystick of highest quality with multifunction cobra handle
Ergonomic Cobra handle providing space for individual components placement
Customized version with up to 5 axes possible
Robust construction ideally suited for heavy-duty applications
Expected life of more than 5 million operations without change in feel
Small installation depth of <49 mm for space-saving integration into panels and driver's cabs
Separate wiring of switches other input elements for safe operation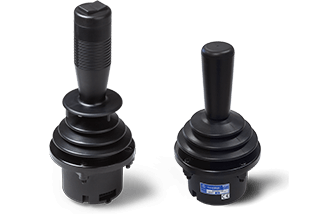 Hand Joystick Series 870
High-quality hand joystick with stock grip handle
Particularly high quality hand joystick with stock grip handle
Robust design, predestined for heavy duty applications
Lifespan of over 5 million movements for long-term reliable operation
Small installation depth of <49 mm for space-saving installation in control panels and driver's cabs
Optionally with button, rocker switch or z axis to control additional functions
12-pin connector for easy installation in series production (optionally also with cable outlet)
Protection class up to IP65
Hand Joystick Series 891
Very robust joystick with multifunction cobra handle and configurable metal mechanism
Ergonomic cobra-shaped handle for ergonomic control of complex machines
Equipped with conductive plastic potentiometers or Hall sensors (both also available as redundant versions) as the ideal solution for your electronics
Outstanding quality of mechanics and sensors for long-term, reliable operation
Various configuration options for rockers, switches, latching positions and micro switches to meet safety-critical requirements
Available with spring return to centre position or with friction brake
Feel can be adjusted for optimization for special applications
Special version with fully rotatable cobra knob available
Degree of protection up to IP65 (above the panel, depending on configuration)
Hand Joystick Series 890
Very robust hand joystick with stock grip handle and highly configurable metal mechanism
Outstanding quality of mechanics and sensor technology for many years of reliable operation
Conductive plastic potentiometers or Hall sensors (both also available as redundant version) as ideal solution for your electronics
Wide range of configuration options for switches, latching positions, etc. to meet safety-critical requirements
Available with spring return to center position or with friction brake
Protection class IP65 (above the panel)
Hand Joystick TRY54
Cutting-edge, ergonomic CANBus joystick mit Kobra-Knauf
CANBus joystick (CAN SAE J1939-71 or CANOpen)
SIL 2 capable
Reliability through redundant Hall sensors
Withstands axial loads of more than 1700 N
Up to 10 million movement cycles
Low installation depth
Hand Joystick TRY50
Most compact hand joystick with third axis handle or stock grip handle
Compact but robust hand joystick
1 - 3 axes handles available
Reliability through redundant Hall sensors
10 million lifecycles
Protection class up to IP67
Redundant outputs optional
Optionally available with USB and CAN Bus (CANOpen and CAN SAE J1939)
Hand Joystick TRY52
Highly customizable hand joystick with cobra handle and compact installation dimensions
1 and 2 Axes
Up to 10 millions cycles under high loads
IP class up to 63
Multifunction handle for additional functions, e.g. Switches, Rockers,
Deadman
Also available with USB- or CANbus-Interface
Hand Joystick TRY80
Rugged, large stock grip hand joystick for rough environments
Reliability through contact-less Hall sensors
Ball handle or stock grip in two sizes
Stock grip optionally with push buttons and deadman trigger
IP classes up to 67 (depends on handle configuration)
Redundant outputs optional
Several output options (analog, CAN SAE J1939, CANopen, USB)
Hand Joystick TRY81
Large multifunctional and customizable hand joystick for rough environments
Ergonomic cobra-shaped multifunction handle for control of complex machines
Equipped with contactless Hall sensors for long-term stable electronics
Various configuration options for rockers, switches, thumb joysticks
Up to 3 Axes with rotatable handle
Additional degrees of freedom with additional thumb joystick/thumb wheels
Up to 10 millions cycles for long-term operation
IP class up to 63 depending on configuration
Analogue outputs, USB or CANOpen/CAN SAE J1939 interface available (optionally redundant)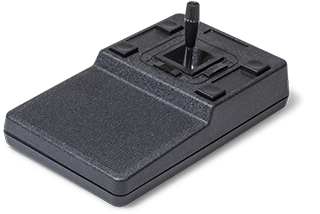 Desktop Joystick MACHIV
Highly customizable desktop joystick
Several handle versions
Desktop housing with customizable number of pushbuttons
Optionally with USB interface
Desktop Joystick MACHV
Desktop joystick with 3 axes and 10 pushbuttons with USB interface
12 switching operations, two of them integrated inside handle
Ergonomic desktop housing
USB interface (HID 1.1 compliant)
RS Desktop Joystick
Compact USB desktop joystick with modern design
3 axes with Hall sensors
Compact desktop housing with 6 pushbuttons
USB interface (HID 1.1 compliant)