Interesting facts about aluminium enclosures
Guide for Aluminium Housings
Ideal for PCB, Eurocard and electronics installation
Aluminium enclosures from ELPAC powered by MEGATRON offer a wide range of aluminium profiles for enclosures in various sizes, lengths and shapes. The wide range of variants leaves hardly anything to be desired in terms of flexible design for PCB and Eurocard installation. The aluminium housings achieve optimum IP protection classes with corresponding sealing elements and are available for machine and plant construction and apparatus engineering.
You have the choice between tongue and groove systems, housings with slide-in cover and full profile housings. Housings with cooling fins for optimized heat dissipation and in DIN formats for standardized use complete the range. The profile enclosures are supplied as kits for self-assembly and, depending on the version, consist of aluminium profiles, with cover or end plates (incl. mounting parts), if necessary with plastic frames and optional sealing elements.
We realize individual designs according to customer requirements on request. MEGATRON is your specialist for customized product adaptations. With high delivery reliability and assured quality products, we focus on long-term partnerships and accompany you throughout the entire lifespan of your application.
---
Guide for Aluminium Housing
Close
---
Advantages of our aluminium housings
Our aluminium enclosures are designed for the installation of electronic components. As electronic housings, they are used for installation in electronic cabinets, as desktop or stand-alone housings or as remote control for robust handheld applications.
Our aluminium housings are manufactured by extrusion. An aluminium bolt heated to several hundred degrees is pressed through a mould and a profile of several metres in length is created. The meter goods are then shortened to the appropriate length for the respective housing. The aluminium profiles of the aluminium enclosures are designed to provide a wide range of enclosures for numerous applications. This includes standardized aluminium enclosures according to DIN IEC 61554:2002-08.
The aluminium enclosures achieve optimum IP protection classes with appropriate sealing elements and provide effective protection against dust and moisture, so that your electronic components and PCBs are optimally protected in an aluminium enclosure.
---
Aluminium alloys for hardness and strength
Aluminium is above all a light metal and in its pure form is quite soft. By adding metals such as magnesium, silicon, manganese, zinc or copper, the material properties are extended without noticeably changing the low weight. As a result, aluminium housings with the appropriate alloys are lightweight, corrosion-resistant and robust components.
Our industrial enclosures are mainly made of the aluminium alloy AlMgSi0.5 (Al = aluminium, Mg = magnesium, Si = silicon). The order of the symbols indicates the distribution of the metal masses with a silicon content of 0.5% (Si0.5). This aluminium alloy is corrosion and weather resistant even in contact with seawater. The components magnesium and silicon also give the industrial housing more hardness (high resistance to breakage and cracking) and strength (high bending strength). The abbreviation "F" indicates the strength of the alloy, e.g. F22.
All these properties facilitate further processing of the housings and make it the ideal workpiece for milling or drilling work, for example, and thus ideal for customer-specific adaptations.
---
Anodizing of aluminium housing - electrically insulated
Anodizing gives aluminium housings pleasant optical and haptic properties, protects them very well against environmental influences and, above all, provides electrical insulation with a dielectric strength of several hundred volts (usually 900 V).
Raw or bare aluminium housings have "only" a natural surface oxide layer of a few nanometres. This thin and transparent layer is not able to permanently protect the housing from harsh environmental conditions and from corrosion. In order to give the raw aluminium housing advantageous surface properties for industrial use, the housings are anodized.
In order to prepare the surface for the anodizing process, the housings must be pickled with appropriate alkaline solutions, depending on the aluminium alloy. This removes the natural oxide layer. The surface is now porous enough to be dyed according to customer requirements. The anodizing process that now follows is an electrolysis process in an acid bath, which is placed under direct current. It converts the top surface layer back into an oxide layer of several micrometers, depending on the process. The desired degree of surface hardness is then achieved by adding special additives in a water bath. This process also prevents the colouring of any colour particles that may have been introduced.
---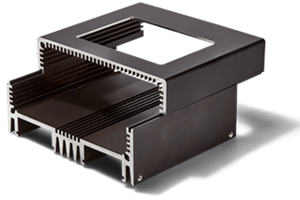 Individual designs are available on request. In addition to a customer-specific length for the housing, we also carry out further processing such as drilling, punching or milling according to dimensional drawings. We also carry out printing, chromating of the bare housings as well as colouring according to the customer's requirements, the demand for other materials and thicknesses and much more within the scope of possibilities.
Scroll