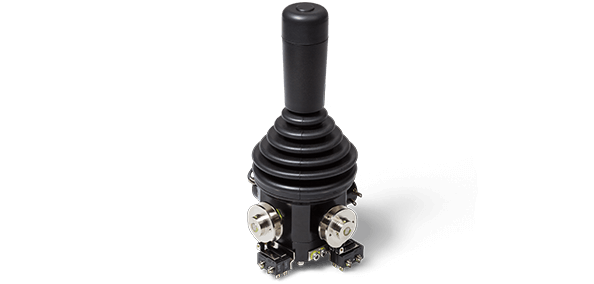 Joystick Series 826
Premium joystick with highly customizable sensor technology
Exceptional quality of mechanics and sensors
For demanding applications
Uses conductive plastic potentiometers or Hall sensors
Various configurations possible for switches, detent positions, etc.
X and Y axis can be configured differently
Friction clutch for one axis, spring return for the other axis possible
Protection up to IP65 (above panel)
Optionally with current output (Hall only), USB or CANopen interface board
| | |
| --- | --- |
| Axes | 1, 2 |
| Output interface | Analogue voltage output, Analogue current loop 4-20 mA, USB, CANopen |
| Size | Hand Joystick, Finger Joystick |
| Return Mechanism | Spring Return, Friction Clutch |
| Technology | Potentiometric, Hall Effect |
| Housing depth under panel | ≤ 44 mm for versions without microswitches and CAN/USB |
| Number of Pushbuttons | 0, 1 |
| Sealing above panel | IP54, IP65 possible if sub-panel is selected |
| Limiter plate | Square, Round, Plus, Slotted y direction (1 axis) |
| Supply voltage | 5 V, 24..≤35 V |
Product description: Joystick Series 826
The adaptability of the sensors in the premium joystick series 826 is unequalled in the field of joysticks
The joystick series 826 fulfils the highest demands on quality. It shows its strengths at challenging applications with up to 2 axes, where no compromises are made when it comes to endurance and reliability, and the application asks for special sensor configurations.
Die configuration options of the series 826 are unique: both axes exhibit a separated shaft for the sensors, so that the sensors, micro switches and return mechanism (spring return/friction clutch) can be adjusted individually. Especially for safety critical applications, this series is often the only series that offers the necessary options to fulfil the requirements.
On request, the following options are available:
Multiple redundant sensors (tandem, triple potentiometers)
Center detent positions
Customer specified detent positions
Gradated detent positions
Micro switches for detection of center position
Micro switches, switching at customer-specified angles
This way, the joysticks of the series 826 can be flexibly configured for all possible application scenarios.