In aluminium or plastic versions for PCB, Eurocard and electronics installation
Our electronics housings are ideally suited for electronics installation like printed circuit boards. They are available as plastic and aluminium housings. They are used as stand-alone, handheld or for installation in system racks. Our housing accessories and electronics components complement the range of products for PCB construction in electronics housing technology.
While the plastic housings are mainly customizable in colour and plastic type, our aluminium housings can be optimally adapted to the respective requirements of the application: This includes height and length, machining of the housings and end plates such as drilling, cutting, milling and appropriate seals.
We realize individual designs according to customer requirements on request. MEGATRON is your specialist for customized product adaptations. With high delivery reliability and assured quality products, we focus on long-term partnerships and accompany you throughout the entire lifespan of your application.
---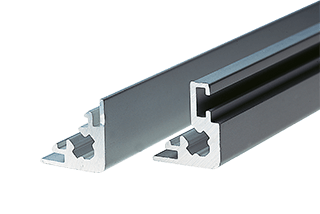 Aluminium bar profile STP
Bar profiles by the meter (up to 3000 mm) for self-assembly of individual aluminium housings
For self-assembly of individual aluminium housings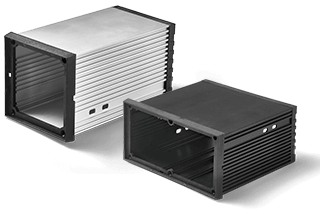 Aluminium housing DIN K
The aluminium electronics housings of the DIN K series are designed according to DIN IEC 61554: 2002-08
DIN aluminium housing
IEC 61554: 2002-08
10 DIN sizes in 8 lengths
Black or natural anodized
Aluminium housing EST
The EST series of aluminium miniature housings are available in numerous housing sizes
Small aluminium enclosure
2 rounded half-shells
Numerous sizes, heights and lengths
Plastic or aluminium end plates
Compact aluminium housing EUKAP FM
Compact aluminium housing in 15 variants and 3 standard lengths are also suitable for D-Sub connectors
Aluminium Small housing for PCB thickness 1.6 / 1.8 mm
3 outside heights 16/20/24 mm
Standard lengths 50/80/100 mm
Board widths 21…67.5 mm
D-Sub plug capable models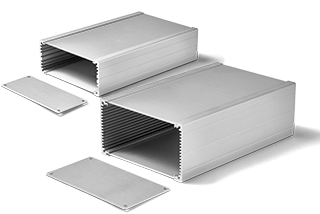 Aluminium side profile housing EUKAP SP
Aluminium housing in any desired length and width in heights 42 mm (SP42) and 56 mm (SP56)
Housing in the heights 42 or 56 mm in any desired length and width
Standard housing in euroboard format 103 x 42/56 x 165 mm (W x H x L)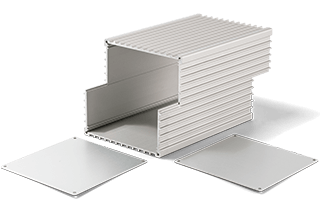 Aluminium housing EUKAP R
Aluminium housing with cooling fins for euroboards with 100 mm width in three housing heights
Profiles with cooling fins
3 housing heights with 100 mm internal dimension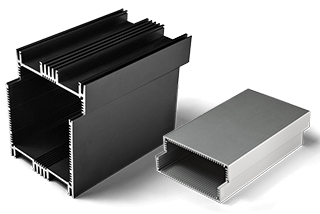 Aluminium housing EUKAP K
The EUKAP K series of aluminium housings for 100 mm euroboards in seven housing heights
Wide range of variants
7 housing heights with internal dimensions of 100 mm
2 profiles with external cooling fins
In protection class IP65 with density elements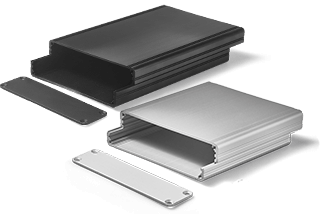 Aluminium housing EUKAP FS
Aluminium housing for euroboards with 100 mm width, housing in 6 heights and 3 standard lengths available
For euroboards with 100 mm width
In 6 different heights
Standard lengths 100/120/160 mm
Aluminium kit housing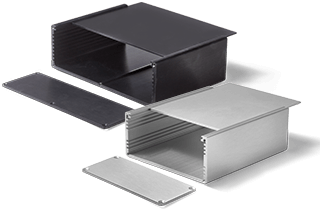 Aluminium housing EUKAP 45/55
Aluminium housing EUKAP 45/55 is designed in U-profile with insertion cover for Euro cards in 100/164 mm width
Aluminium housing with slide-in cover
For euroboards with 100/164 mm width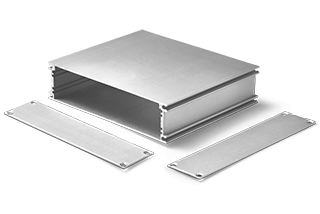 Aluminium housing MINKAP K
Aluminium housing for PCB with VG ledge in 107 mm width
Standard size 107 x 26,2 x 160 mm (W x H x L)
End plates for VG ledge with C096 plug connector according to IEC 60603-2
4 outer grooves for mounting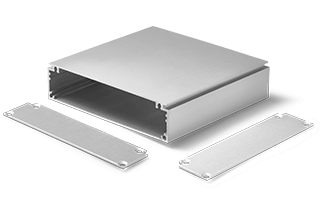 Aluminium housing MINKAP G
Aluminium small housing MINKAP G for euroboards with VG ledge as insert in 3U/19"
For single euroboards with 100 mm width
Standard size 100 x 22.4 x 160 mm (W x H x L)
End plates for VG ledge with C096 plug connector according to IEC 60603-2
For the insertion of 3HE/19"card carriers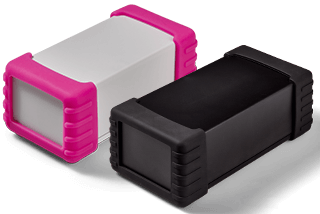 Plastic housing TPC
Plastic hand-held housing TPC with protective cover - in 18 colour combinations and 6 housing sizes
Plastic hand-held housing in 6 different sizes
Protective cover, made of silicone in numerous colours
Numerous colour combinations possible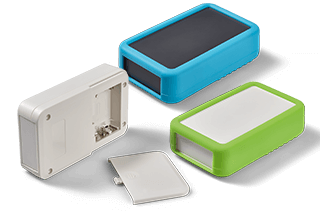 Plastic housing TKC
Plastic hand-held housing with battery compartment and protective cover: 8 battery types, 9 housing sizes, numerous colour combination
For 8 different battery types
Plastic hand-held housing in 9 different sizes
Protective cover, made of silicone in numerous colours
Numerous colour combinations possible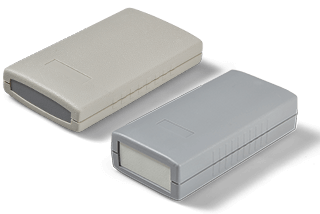 Plastic housing GKI
Plastic instrument housing with IP54 protection and 12 housing sizes: Light grey in impact-resistant ABS and dark grey ABS UL94-V0
Protection class IP54
Made of ABS
Numerous housing sizes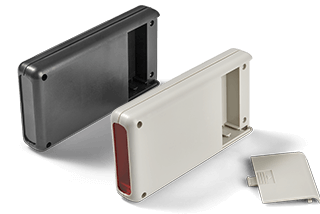 Plastic housing GKF
Plastic hand-held housing made of ABS in 2 housing sizes with or without battery compartment
GKF B1 without battery compartment
GKF B2 with battery compartment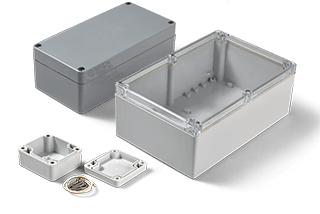 Plastic housing GK
Compact plastic housing in IP65, made of temperature-resistant polycarbonate or impact-resistant ABS in numerous housing sizes
Protection class IP65
Made of temperature-resistant polycarbonate -40…+125 °C
Or impact-resistant ABS -30…+80 °C
Also, with transparent housing cover
Numerous housing sizes