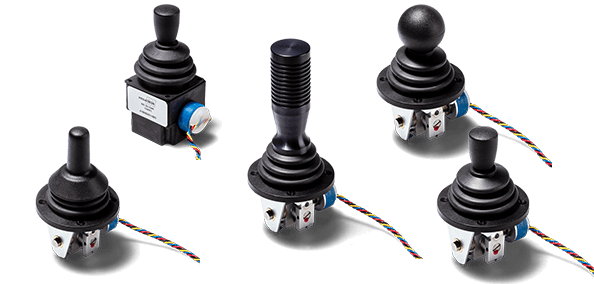 Finger Joystick 842
Robust potentiometric joystick in a variety of designs - compact but flexible
Very robust potentiometric finger joystick with metal mechanics
Wide range of handles
Degree of protection up to IP65 above panel
Inherently robust towards electromagnetic interference
Custom versions possible with friction brake for one axis, spring return for the second axis
Microswitches for detecting the central position/deflection optional
Customer-specific billet shapes, bellows and sensors on request
| | |
| --- | --- |
| Axes | 1, 2, 3 |
| Output interface | Analogue voltage output |
| Size | Finger Joystick |
| Return Mechanism | Spring Return, Friction Clutch |
| Technology | Potentiometric |
| Housing depth under panel | 31...≤40 mm |
| Number of Pushbuttons | 0, 1, 2 |
| Sealing above panel | Dust and spray water protection (IP54 or better), Dust and water tight (IP65 or better) |
| Limiter plate | Square, Slotted y direction (1 axis) |
Product description: Finger Joystick 842
Inherently RFI/EMC immune and most flexible in its class
The joysticks of the series 842 exhibit properties, which are normally found in bigger joystick models only, even though it is a very compact finger joystick. Particularly worth mentioning is the possibility to configure the three axes independently and the option for a friction clutch in x and/or y-axis.
The series is equipped with potentiometers, because potentiometers are still the best choice if EMI/RFI resistance requirements are very high. The joysticks are available with up to 3 axes, and exhibit a robust mechanical metal mechanism. This way the return properties of the x and y-axis can be changed by e.g. using a stronger or weaker spring, or by using a friction clutch.
Due to the variety of handle shapes, the optimum product can be selected for the application. A special feature is the option for micro switches, if the open frame version is chosen.
Potentiometer in rail-to-rail configuration (full angle) or with partial angle output are available
Alternative to Hall effect joysticks due to inherent immunity to electromagnetic interference