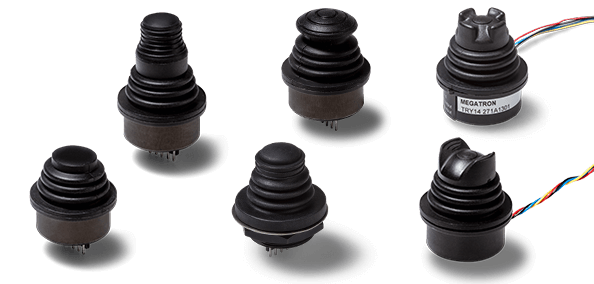 Thumb Joystick TRY14
Modern miniature thumb joystick with a broad selection of handles and options
Broad selection of handle shapes
Good cost/performance ratio
Installation depth from 13 mm
Contactless Hall sensors, optionally redundant
Waterproof, IP class 68 (1 metre) / or even resisting steam jets (IP69K)
Optional dual outputs, or even redundant with independent power supply
Push button in handle available
Analogue voltage output, PWM or USB interface
| | |
| --- | --- |
| Axes | 1, 2 |
| Output interface | Analogue voltage output, USB, PWM (Pulse Width Modulation) |
| Size | Thumb Joystick |
| Return Mechanism | Spring Return |
| Technology | Hall Effect |
| Housing depth under panel | ≤ 13 mm |
| Sealing above panel | IP68 (1 meter), optional IP69K (not valid for panel sealing) |
| Limiter plate | Square, Round, Plus, Slotted y direction (1 axis), Slotted x direction (1 axis) |
Product description: Thumb Joystick TRY14
The thumb joysticks of the TRY14 series cover a great variety of different applications due to their high number of configuration options
The TRY14 is the all-rounder in the field of thumb joysticks because of the extensive selection of handles, limiters and output options. The size of these joysticks can be compared with the ones that are widely used in gamepads, but the TRY14 is integrated into an industrial-suited housing with a reliable mechanism. Typical applications range from remote controls, arm rest integration or integration into larger joystick handles to industrial or medical robot arms.
The TRY14 offers hard cover handle designs as well as rubber cover look & feel variants, in addition to analogue outputs and digital interfaces (PWM and USB). One handle version even offers a momentary push button. Optionally, redundant sensors are available, with common or separate power supplies. Thus, the joysticks can be optimized for almost all possible applications.
With the convenient mounting options (mounting with frame from above or below, or screw flange) and the small installation depth of < 13 mm, the joystick offers unequalled opportunities in case of space-limitations below the panel. Termination options are lead wires or a 2.54 mm raster Pitch TE connector, increasing the flexibility even further.
Due to its modern contact-less hall-sensors, the electro mechanics guarantee for a long mechanical life expectancy of 1 million operations. The construction is laid-out for a load resistance up to approximately 30 N, and improved handle options offer protection up to IP69k above the panel (panel ingress not included).