Mechatronic precision products - for over 60 years - MEGATRON
Measurement, control, actuation: whenever positions, electrical travels, angles and forces are to be measured precisely or controlled exactly, MEGATRON delivers the appropriate solution with its sensors, precision resistors, electromechanical components and industrial joysticks. MEGATRON offers a unique range of precision products from both our own development and production, as well as from our long-standing exclusive partners. Regardless of the products being produced by ourselves or by our exclusive partners, you always receive assured MEGATRON quality.
The ELPAC brand offers a strong and optimized portfolio of components "all around the printed circuit board": from mounting components for electronic components and PCBs to a variety of fibre optic components and electronics housings made of plastic or aluminium. Similar to our sensor technology division, customer-specific adaptations and solutions are also implemented here.
Our well-organized stock-keeping as well as the close coordination with our partners translates into high delivery reliability. MEGATRON places great value on long-standing partnerships and assists its customers from the initial idea to its final implementation, but also during the entire life span of the individual applications. It is our mission to offer each customer a high degree of creativity paired with specific know-how. As a result, MEGATRON provides you a complete package specific to your needs, in other words, everything comes from a single source – for more than 60 years now.
---
Our offer - our philosophy
MEGATRON's product portfolio has developed over the course of more than 60 years, consistently based on the requirements of the most diverse industrial and medical applications. Today, custom-fit MEGATRON sensors and joysticks are installed in literally thousands of applications. MEGATRON trusts in long-standing, robust as well as reliable technologies and products, but also highly values innovation. It is solely the requirement of the individual application deciding over the choice of the right product. That's our philosophy.
Your solution – our adjustment
It is one of MEGATRON's specialities to adjust almost every product regarding its function, design and mechanical as well as electrical interfaces to the specific needs of the customer – also for small quantities. This is possible due to our variety of options, our modular product concepts and our flexible organization. Therefore, you will receive a functional and economic solution within your existing and desired design. With MEGATRON, you can reduce your costs and produce short development periods. That way, we provide you with an advantage in competition.
Your advantage – our customer proximity and applied experience
Our experienced technical sales engineers connect product knowledge to the expertise gathered from many applications. If necessary, we complement our processes with the consultation of technical product managers and development engineers. That way, you are best advised – also, directly at your premises. We analyse your individual application and define your solution together with you. Depending on the complexity, we promptly deliver a solution by strategically selecting or adjusting an existing product or by defining an alternative, new product. It is our commitment to always deliver the best possible "design-in."
---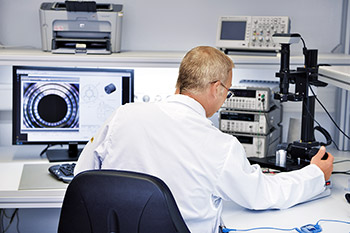 Your safety - our quality guarantee
As a provider of mechatronic components for use in high-quality and durable industrial commodities, MEGATRON is aware of its responsibility regarding delivery reliability. Therefore, it is our top priority to constantly optimize delivery times and delivery reliability. We also direct special attention to the availability of our products with the management of the product life cycle. In principle, spare parts are available on a long-term basis. In case of a discontinuation of a product, we offer replacements regarding function and installation. On customer request, we keep a safety stock with selected articles.
We offer individual, eco-friendly pendulum-packagings for simplified handling at our customer's premises. MEGATRON products comply with legal requirements according to REACH and RoHS. We exclusively deliver products of high, specialized and sustainable quality. This is guaranteed regardless of whether we deliver a product from our own manufacturing or from one of our suppliers. All quality-relevant processes are certified according to DIN EN-ISO 9001:2015.
The MEGATRON quality policy focuses on target-oriented planning, development, manufacturing and supply of all products and services as well as of all associated processes. In doing so, we put emphasis on preventive and fail-safe measures of quality control. The specified functional properties of our products are always verified. We therefore maintain testing devices developed in-house. Moreover, at the customer's request, we implement specific test methods for the individual application. On request, we will also test regarding additional customer requirements.