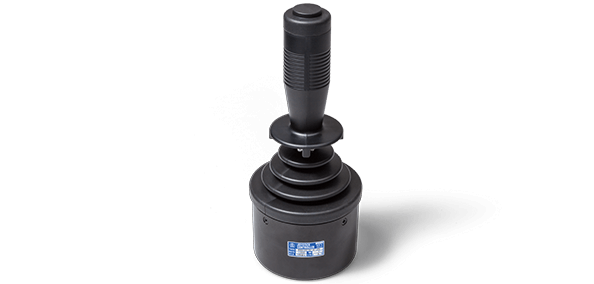 Hand Joystick Series 890
Very robust hand joystick with stock grip handle and highly configurable metal mechanism
Outstanding quality of mechanics and sensor technology for many years of reliable operation
Conductive plastic potentiometers or Hall sensors (both also available as redundant version) as ideal solution for your electronics
Wide range of configuration options for switches, latching positions, etc. to meet safety-critical requirements
Available with spring return to center position or with friction brake
Protection class IP65 (above the panel)
| | |
| --- | --- |
| Axes | 1, 2, 3 |
| Output interface | Analogue voltage output |
| Size | Hand Joystick |
| Return Mechanism | Spring Return, Friction Clutch |
| Technology | Potentiometric, Hall Effect |
| Housing depth under panel | ≤ 60 mm |
| Number of Pushbuttons | 0, 1 |
| Sealing above panel | IP65 |
| Limiter plate | Square, Round, Plus, Slotted y direction (1 axis), Slotted x direction (1 axis), L-shaped (forward x and y only) |
Product description: Hand Joystick Series 890
The large Hand Grip Joysticks of the 890 series with stock grip handle were specially developed for the multi-axis control of machines in tough, demanding environments, where the highest requirements on quality and feel must be met and where the sensors must be configurable. The joysticks are a guarantee for success in demanding applications with up to three axes.
Often, the resetting behaviour and spring strength must be adjusted in order to meet the requirements of the application. In the 890 series, the axis mechanics are made of metal and the axes are designed via separate shafts for the x, y axes. Therefore, sensors of the individual axes can be strongly configured independently of one another:
The joystick handle can either be configured to return automatically to the center position by a spring (different spring strengths available), or that it remains at its current deflection by integrating a friction brake.
Optionally, locking positions (for x- and y-axis) can be realized, so that the user feels e.g. that the center position has been reached
Consequently, the joystick's feel can be ideally matched to the application.
For safety-critical applications, additional micro switches can be ordered, which switch at a customer-defined deflection angle. Redundant switching configurations are also possible.
The following micro switches are often installed:
Microswitch for the detection of the center position (for x and y-axis)
Microswitch for detection of the deflection by 5°, 10°or 15°(for x and y-axis)
As main sensors for measuring the angular deflection usually potentiometers are used with the 890 series, since they are passive components and thus robust towards electromagnetic interference and electrical discharge. However, modern Hall sensors are also available, which have the advantage of a contactless measuring principle and therefore show only minimal drift of the output signal during long-term operation. Both sensor options are also available as redundant version.