Fingertip control offers the highest operating precision
Finger joysticks are used wherever individual fingers or fingertips encompass the joystick handle for very precise control tasks. It is a fact that it is in the fingertips that people have the most "feel" and therefore exercise the best control when operating a handle. The type of operation with the fingers determines the size of the joysticks and the enormous range of possible applications.
This also results in the very broad portfolio of finger joysticks, which is expressed within a joystick series with its numerous options for handles, limiters and sensor technology, right up to the integration of push-button switches. The configuration options of the finger joysticks are therefore particularly versatile, but still do not satisfy all demanding applications.
In many applications a technical adjustment is required and MEGATRON offers the solution. We have the claim to provide each customer individually with the best functional and economical result. With high delivery reliability and assured quality products, we focus on long-term partnerships and accompany you throughout the entire lifespan of your application.
---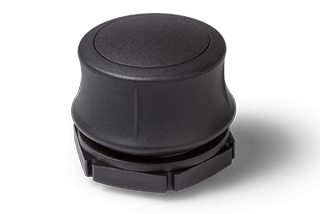 SpaceMouse® Module
Intuitive control of complex 3D movement with one hand only
Multidimensional joystick for 3D movements (6 DOF, degrees of freedom)
Optimized industrial version
Optoelectronic sensor: contact-less and linear
UART (serial) or USB interface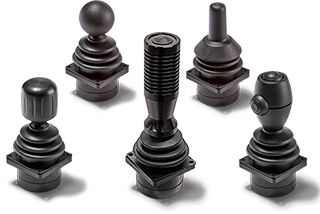 Miniature heavy-duty joystick 844
Very robust joystick in variety of designs with minimal installation depth - the miniature heavy-duty joystick
Very robust joystick
Exceptional electromagnetic compatibility (EMC)
Small installation depth of < 20 mm
Wide selection of configurations/handles
Reliability through redundant Hall sensors (optional)
Contact-less, wear-free Hall effect technology
SIL 2 / PL D capable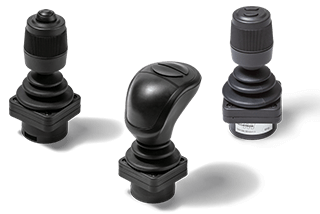 Finger Joystick TRY120
Robust finger joystick for use in demanding outdoor and mobile applications.
Rugged finger joystick ideal for mobile vehicle applications
Easy to service due to plug connection
With Hall sensors, optionally redundant
Also with digital interfaces (CAN J1939, CANopen, USB)
Shallow installation depth < 26 mm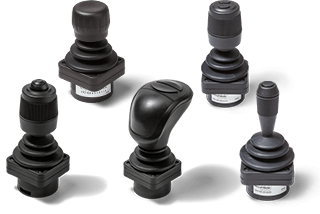 Finger Joystick TRY100
Almost all application needs to be combined in one joystick series thanks to the extensive selection of handles, limiters and output options
Variety of handle shapes
Good cost/performance ratio
Installation depth from 26 mm
1 to 3 axes
Optional redundant Hall sensors
Optional with digital interfaces (CANopen, CAN J1939, USB)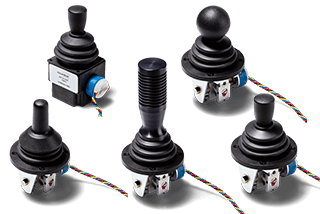 Finger Joystick 842
Robust potentiometric joystick in a variety of designs - compact but flexible
Very robust potentiometric finger joystick with metal mechanics
Wide range of knobs
Degree of protection up to IP65 above panel
Inherently robust towards electromagnetic interference
Custom versions possible with friction brake for one axis, spring return for the second axis
Microswitches for detecting the central position/deflection optional
Customer- specific billet shapes, bellows and sensors on request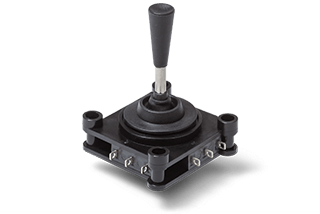 Switch Stick 851
Economical switch stick for one- or two-dimensional control
Stable stainless steel shaft
Small installation depth < 24 mm
Spring return to center position
IP class 65 (above panel)
Good cost/performance ratio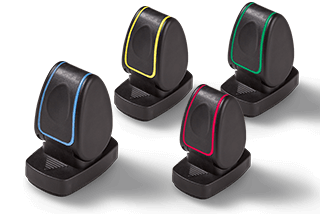 Finger Joystick Series 847
Single axis joystick with modern look and feel with soft-touch surface and state-of-the-art technology
Reliability through redundant Hall sensors
Protection IP67
Handle details in 5 colours
Mounting depth 5.8 mm
With or without spring return
Detent positions and switching outputs availabe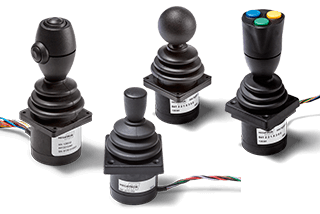 Switch Stick 841
Rugged switch stick for 1 to 2 axes with high quality switches for various switching scenarios
Particular robust switch stick
Single step or progressive switching
Switching up to 1 A with gilded contacts
Center detect switch optional
Protection up to IP65 (above panel)
High lifespan
Large selection of handles, also with push buttons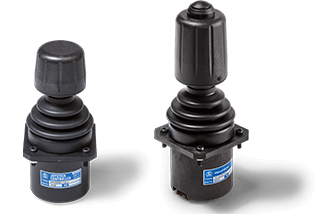 Finger Joystick TRY22
Industrial joystick for three axes of the highest quality in terms of mechanics, materials and workmanship
Exceptional quality of mechanics and sensors
For demanding applications
Contact-less, wear-free Hall Effect technology
Redundant outputs available
Protection available up to IP65 (above panel)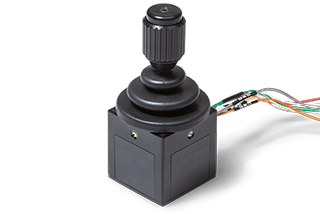 Miniature Switch Stick 821
Very compact, premium switch stick for 1 to 3 axes and up to 6 micro switches
Exceptional quality of mechanics and sensors
For demanding applications
Protection of IP54 above panel (only X and Y axis)
Smallest dimensions with highest life-time
Small handle deflection
With up to 6 micro switches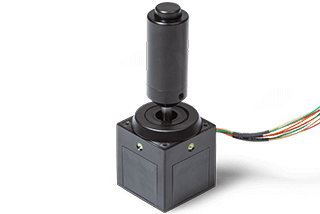 Miniature Joystick Series 828
Very compact premium finger joystick for 1 to 3 axes for safe operating feeling and convincing haptic
Exceptional quality of mechanics and sensors
For demanding applications
Protection up to IP54 (above panel)
Smallest dimensions with highest life-time
Small handle deflection
Integrated conductive plastic potentiometer sensors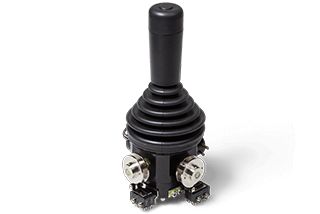 Joystick Series 826
Premium joystick with highly customizable sensor technology
Exceptional quality of mechanics and sensors
For demanding applications
Conductive plastic potentiometers mounted outside the housing
Various configurations possible for switches, detent positions, etc.
X and Y axis can be configured differently
Friction clutch for one axis, spring return for the other axis possible
Protection up to IP65 (above panel)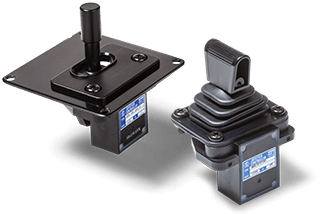 Finger Joystick Series 829
Joystick of the highest quality with 1 axis for controlling one-dimensional parameters
Exceptional quality of mechanics and sensors
For demanding applications
Optional Hall Effect or potentiometer sensors
Diverse configuration options for micro switches, detent positions, etc.
With spring return to center, to negative limit, or with friction hold