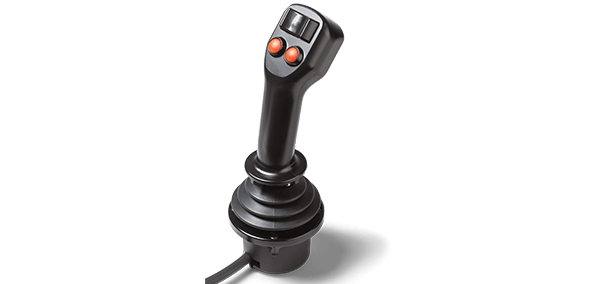 Hand Joystick Series 871
Hand joystick of highest quality with multifunction cobra handle
Ergonomic Cobra handle providing space for individual components placement
Customized version with up to 5 axes possible
Robust construction ideally suited for heavy-duty applications
Expected life of more than 5 million operations without change in feel
Small installation depth of <49 mm for space-saving integration into panels and driver's cabs
Separate wiring of switches other input elements for safe operation
| | |
| --- | --- |
| Axes | 2, 3, ≥ 4 |
| Output interface | Analogue voltage output |
| Size | Hand Joystick |
| Return Mechanism | Spring Return |
| Technology | Hall Effect |
| Housing depth under panel | ≤ 49 mm |
| Number of Pushbuttons | 0, 1, 2, 3, ≥4 |
| Sealing above panel | Standard IP40, IP65 available as special version |
| Limiter plate | Square |
Product description: Hand Joystick Series 871
The medium-sized Cobra joysticks of the 871 series were specially developed for multi-axis control of machines in demanding applications, where the highest requirements on quality and feel have to be met at the same time. The design is compact and therefore offers advantages in limited space where many operating functions are required.
The joystick's design for the application can be individualized through specific functional configurations with mini-joysticks, rockers, operator presence paddle, as well as buttons above and below the joystick head. This way, customized handles with up to 3 rockers can be realized, so that the joystick can be equipped with up to 5 axes/degrees of freedom. The ergonomic design of the Cobra knob ensures fatigue-free operation and the accessibility of the additional functions.
Thanks to the non-contact Hall effect technology, the joysticks are extremely reliable and safe to use even under the toughest conditions. The buttons and rockers of the control knob are wired separately. They can therefore be operated at higher voltage levels and loads compared to the Hall sensors of the base electronics.