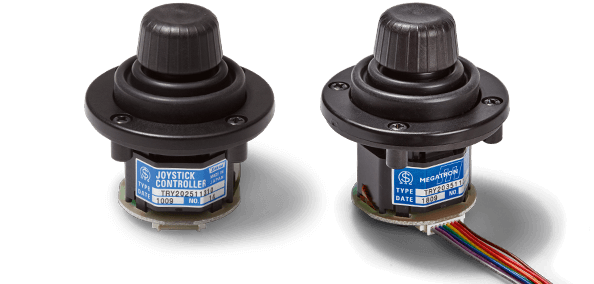 Thumb Joystick TRY20
The smallest 3-axis joystick on the market thanks to the rotatable knob
3 axes due to rotatable knob (2-axis version optional)
Particularly low height above the panel (21 mm without seal, 28 mm with seal)
Outstanding quality of mechanics and sensors for many years of reliable operation
Contactless, wear-free Hall sensor technology for consistent signal quality over the entire service life
Redundant output signals optionally possible for particularly safety-critical applications
| | |
| --- | --- |
| Axes | 2, 3 |
| Output interface | Analogue voltage output |
| Size | Thumb Joystick |
| Return Mechanism | Spring Return |
| Technology | Hall Effect |
| Housing depth under panel | ≤ 31 mm |
| Sealing above panel | IP40 with hard cover, IP54 with rubber boot, IP65 as special version for two axes |
| Limiter plate | Square |
Product description: Thumb Joystick TRY20
Unique: The TRY20 offers 3 axes and is still a compact thumb joystick
The joysticks of the TRY20 series are unique in their class thanks to their rotatable knob, which, as a z-axis, offers an additional third, proportional degree of freedom for controlling the application.
The industrial joysticks achieve the highest level of quality in terms of mechanics, materials and workmanship. The high-quality haptics convey a secure operating feeling and enable the user to precisely control movements in several dimensions. Double (redundant) outputs are optionally available, which enable use in safety-critical applications. Variants with protection class IP40 (hardcover) and sealed variants (rubber bellows) with protection class IP54 are available. If the z-axis (the rotatable knob) is not required, the 2-axis version with protection class IP65 can be implemented as a special version.
The choice falls on the TRY20 in particular for the following requirements:
If a thumb joystick is required for an operating concept and a z-axis for a third dimension directly on the joystick brings advantages, for example for controlling up and down movements in addition to movements in the plane.
If the space in the control panel is limited, but control of 3 axes is still required
If a particularly low height of the control element above the panel is desired (from 21 mm)
When "conventional" thumb joysticks do not meet the high demands of the application.
The TRY20 series is particularly popular for installation in remote control units: the particular freedom of movement of the thumb joint allows the user - similar to the use of gamepads - convenient, precise control of two dimensions by placing the thumb on the knob. For example, an unmanned vehicle can be controlled while it is moving around. In addition, another function can be operated with the TRY20 by turning the knob, for example extending a telescopic arm. Moving the hand away from the joystick to another control element is not necessary, and the user has the application in view during the entire control process.