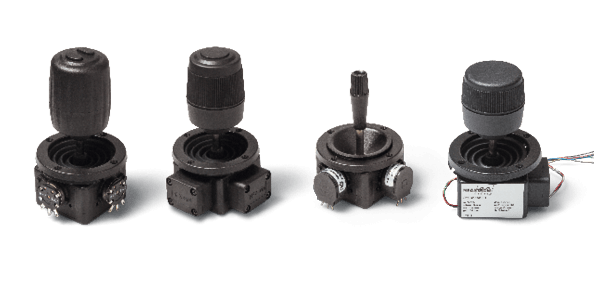 Miniature Joystick Series 812
Ideally customizable miniature joystick with Hall sensors or potentiometers in various designs
Wide selection of handles
1 to 3 axes
Spring tension customizable for axis 1 and 2
Optional Hall Effect or potentiometer sensors
Small installation depth < 26 mm
| | |
| --- | --- |
| Axes | 1, 2, 3 |
| Output interface | Analogue voltage output |
| Size | Finger Joystick |
| Return Mechanism | Spring Return |
| Technology | Hall-Effect or Potentiometric |
| Housing depth under panel | ≤ 26 mm |
| Number of Pushbuttons | 0, 1, 2, 3 |
| Sealing above panel | Rubber boot available for above panel sealing |
| Limiter plate | Square, Slotted y direction (1 axis), Slotted x direction (1 axis) |
Product description: Miniature Joystick Series 812
The miniature joystick 812 is the ideal choice for 1, 2 and 3-dimensional control applications, if space limitations are given and small operation forces are demanded
The joystick series 812 with its compact dimensions, an installation depth of < 26 mm and flexibility, covers almost all applications of finger joysticks: Due to its wide variety of handle and sensor options, one can easily optimize the product for any application.
The crucial advantage lies in its unique design of joystick: the sensors are mounted from outside the housing, which offers changing the sensor technology while keeping the same housing shape and panel construction. Thus, the joystick series enables the customer to optimize the control unit properties for the different applications, without changing the joystick's control behaviour.
For the standard options, the customer can choose between three different types of potentiometers or Hall Effect sensors. In addition, the wide variety of handle options is unprecedented, offering more than 20 different designs with push buttons and/or Z-axis handles. In addition, desktop variants with up to 5 push buttons are available. A number of spring tension values are available, and different choices of plastic/rubber covers top off the series flexibility.