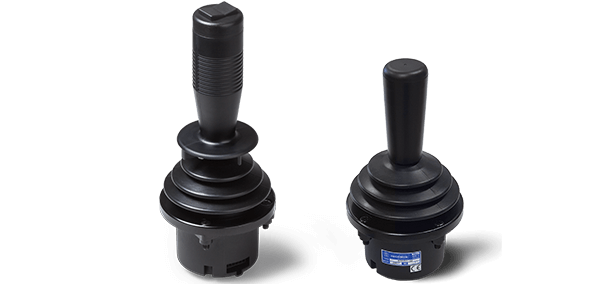 Hand Joystick Series 870
High-quality hand joystick with stock grip handle
Robust design, predestined for heavy-duty applications
Lifespan of over 5 million movements for long-term reliable operation
Small installation depth of <49 mm for space-saving installation in control panels and driver's cabs
Optionally with button, rocker switch or z axis to control additional functions
12-pin connector for easy installation in series production (optionally also with cable outlet)
Protection class up to IP65
| | |
| --- | --- |
| Axes | 2, 3 |
| Output interface | Analogue voltage output |
| Size | Hand Joystick |
| Return Mechanism | Spring Return |
| Technology | Hall Effect |
| Housing depth under panel | ≤ 49 mm |
| Number of Pushbuttons | 0, 1 |
| Sealing above panel | IP65 |
| Limiter plate | Square |
Product description: Hand Joystick Series 870
The medium-sized hand joysticks of the 870 series with stock grip handle were specially developed for the multi-axis control of machines in demanding applications with highest requirements on quality and feel.
The joysticks are a guarantee for success in demanding applications with up to three axes, where quality, durability and reliability are paramount. The precision manufacturing of the joystick results in a particularly high-quality feel that conveys a safe operating feeling and enables the user to precisely control movements in several dimensions.
Thanks to the non-contact Hall effect technology and the optional double outputs, the joysticks are extremely reliable and safe to use even in the toughest conditions. The joystick is electrically connected via a 12-pin connector, which enables easy installation. The installation depth of <49 mm is particularly advantageous when space is limited.