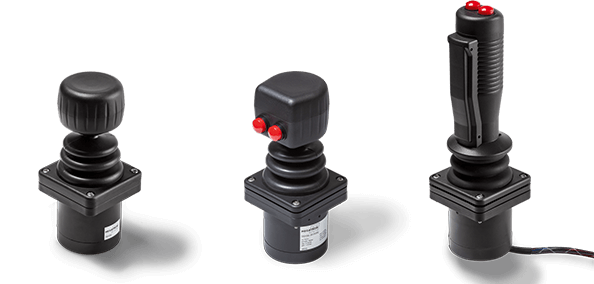 Hand Joystick TRY50
Most compact hand joystick with third axis handle or stock grip handle
Compact but robust hand joystick
1 - 3 axes handles available
Reliability through redundant Hall sensors
10 million lifecycles
Protection class up to IP67
Redundant outputs optional
Optionally available with USB and CAN Bus (CANOpen and CAN SAE J1939)
| | |
| --- | --- |
| Axes | 1, 2, 3 |
| Output interface | Analog, USB, CAN (J1939), CAN, Voltage Regulator |
| Size | Hand Joystick |
| Return Mechanism | Spring Return |
| Technology | Hall Effect |
| Housing depth under panel | ≤ 57 mm |
| Number of Pushbuttons | 0, 1, 2, 3, ≥4 |
| Sealing above panel | Up to IP67 depending on handle configuration |
| Limiter plate | Square, Round, Plus, Slotted y direction (1 axis), Slotted x direction (1 axis), Diamond (square, rotated 45°) |
Product description: Hand Joystick TRY50
Space-saving, compact – but rugged nonetheless
The TRY50 series covers the transition from finger- to hand-size joysticks. This is realized by a construction of the very robust mechanism combined with space-saving Hall sensors.
The TRY50 was specifically developed for applications, where a rugged hand joystick is needed, but space is limited. The optimized dimensioning of the mechanism and control lever make it possible to use the joystick in environments, where only finger joysticks would fit, but lack the needed load resistance.
The joystick is equipped with Hall sensors and thus shows only minimal drift of the output signal over many years of operation. Optionally, redundant sensors can be chosen to further increase reliability.
Low profile handles and stock grip handles available
Push buttons and operator presence paddle available as additional input elements
Optionally available with the interfaces USB, CAN SAE J1939-71 or CANOpen
Configuration possible with "guided feel", so that the diagonal deflection requires more force than that of the two main axes (forwards / backwards, left / right)
The joystick withstands high loads despite its size:
Maximum vertical load 440 N
Maximum horizontal load: 660 N