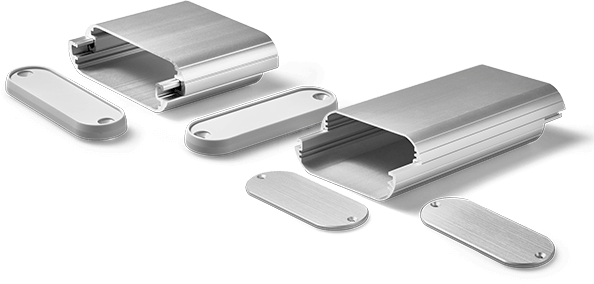 Aluminium housing EST
The EST series of aluminium miniature housings are available in numerous housing sizes
Small aluminium enclosure
2 rounded half-shells
Numerous sizes, heights and lengths
Plastic or aluminium end plates
| | |
| --- | --- |
| Width (outer) | 41 mm, 48 mm, 57 mm, 70 mm, 82 mm, 95 mm, 100 mm, 110 mm, 130 mm |
| Height (outer) | 13 mm, 15 mm, 16 mm, 18 mm, 20 mm, 24 mm, 30 mm, 35 mm, 40 mm |
| Standard lengths | 44 mm, 46 mm, 49 mm, 50 mm, 52 mm, 54 mm, 55 mm, 60 mm, 64 mm, 70 mm, 71 mm, 72 mm, 74 mm, 75 mm, 79 mm, 80 mm, 82 mm, 84 mm, 85 mm, 90 mm, 94 mm, 96 mm, 100 mm, 104 mm, 109 mm, 110 mm, 112 mm, 114 mm, 115 mm, 120 mm, 124 mm, 130 mm, 140 mm, 144 mm, 150 mm, 162 mm, 170 mm |
| Material / Colour | Aluminium natural anodised |
Product description: Aluminium housing EST
The small aluminium enclosures of the EST series are available in 10 combinations of enclosure heights and widths and in many standard lengths. There are two grooves for the insertion of printed circuit boards (max. 1.9 mm) on both sides (exception 1348 does not have a groove, 4095 has 4 grooves). These beautifully shaped housings consist of two assembled, rounded half-shells which are held together by the screwed connection of the two end plates. The aluminium natural anodized profiles (optionally black anodized) are supplied as a kit consisting of 2 end plates of ABS (EST1) or aluminium natural anodized (EST1A) as well as 4 pieces of self-tapping screws.

For serial production, you get many other customer-specific solutions, such as:
Processing of the housings such as drilling, punching, milling etc. as well as printing according to customer requirements. Customized processing of end plates and more.