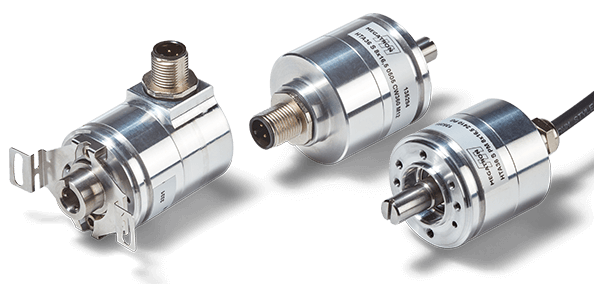 Hall Effect angle encoders HTx36
Hall encoder in Ø36 mm metal housing (up to IP67) with numerous electronic, mechanical and software options
Absolute encoder:
Single- or multiturn, also redundant, optionally as Teach-In-Encoder (field-programmable)
Analogue: Voltage/current output, PWM - 12 bit
Digital: SSI, SSI+UVW up to 16 pole pairs, SER, SPI - up to 14 bit
Incremental encoder:
A, B, Z also differential A, A/, B, B/, Z, Z/, OC, TTL, PP signal outputs
Free selection of the number of pulses - up to 1024 ppr.
UVW signals for motor commutation of DC motors up to 16 pole pairs
| | |
| --- | --- |
| Resolution | Analogue 12 bit, serial 14 bit, incremental up to 1024 ppr. |
| Functions / Features | Without mech. stop, Hollow shaft, Customer-programmable, Metal housing |
| Output signal | Analogue, Incremental, PWM, SSI, SER, SPI |
| Protection class | Shaft IP65 (option IP67), housing IP68 |
| Sensor technology | Hall technology |
| Shaft diameter | Ø6 or Ø8 standard (option ≤Ø4 up to ≤Ø12 mm) |
| Housing diameter | 36 mm |
| Mounting | Servo flange, Threaded holes |
| Electrical connection | Axial, Radial, Cable, Connector |
| Effective electrical angle of rotation | max. 72000° |
| Housing depth | min. 34 mm / max. 42 mm |
Product description: Hall Effect angle encoders HTx36
HTx36 encoder - robust, ball bearing, sealed, with solid or hollow shaft
The encoders of the HTx36 series are specially designed for use between simple applications and heavy-duty applications. The contactless encoders in the Ø36 mm metal housing can be precisely matched to the respective area of ​​application thanks to their numerous electronic and mechanical options. Whether as incremental or absolute value encoders, they cover a wide range of applications and, depending on the output electronics, are used in systems, laboratory devices and medical devices, for example.
The HTx36 encoder family is one of the most robust encoders with magnetic sensor technology in the MEGATRON product range. This is due to the solid aluminium housing, the high IP protection class and a double ball-bearing stainless steel shaft that withstands high axle loads and allows high actuation speeds. The signal processing is digital and based on magnetic recording of measured values. The gradient-based evaluation ensures high interference immunity, e.g. B. against temperature fluctuations and EMC influences achieved. This technology leaves the disadvantages of conventional Hall sensors far behind. HTx36 rotary encoders are designed for maximum service life and even surpass the robust optical data acquisition. The number of defects or failures in rotary encoders with this technological design is practically zero, even after decades of use.
In addition to numerous standard options, the modular system of the HTx36 encoders enables optimal adaptation to the respective requirements of the application. In addition, the concept also allows timely customer-specific adjustments (even in small series) on the basis of a clearly structured price model. Typical modifications are, for example, customer-specific shaft geometries, signal output functions, special cable lengths or individually assembled electrical connection cables.