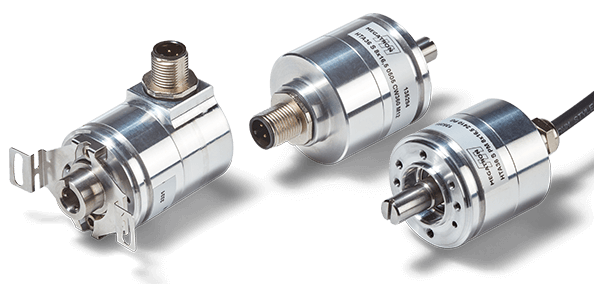 HTx36 - Resolution Level Standard
Absolute or incremental 3D Hall encoder in Ø36 mm metal housing (up to IP67) with numerous electronic, mechanical and software options
Absolute encoder:
Single- or multiturn
Analogue: Voltage/current output, PWM - 12 bit
Digital: SSI, SSI+UVW up to 16 pole pairs, SER, SPI - up to 14 bit
Also redundant
Incremental encoder:
A, B, Z also differential A, A/, B, B/, Z, Z/
OC, TTL, PP signal outputs
Free selection of the number of pulses - up to 1024 ppr.
UVW signals for motor commutation of DC motors up to 16 pole pairs
| | |
| --- | --- |
| Resolution | Analogue 12 bit, seriell 14 bit, incremental up to 1024 ppr. |
| Functions / Features | Without mech. stop, Hollow shaft, Customer programmable, Metal housing |
| Output signal | Analogue, Incremental, PWM, SSI, SER, SPI |
| Protection class | Shaft IP65 (option IP67), housing IP68 |
| Sensor technology | 3D Hall |
| Shaft diameter | Ø6 or Ø8 standard (option ≤Ø4 up to ≤Ø12 mm) |
| Housing diameter | 36 mm |
| Mounting | Servo flange, Threaded holes |
| Electrical connection | Axial, Radial, Cable, Connector |
| Effective electrical angle of rotation | max. 72000° |
| Housing depth | min. 34 mm / max. 42 mm |
Product description: HTx36 - Resolution Level Standard
HTx36 Rotary Encoders with Solid- or Hollow Shaft in Resolution Level Standard
HTx36 encoders in the Resolution Level Standard convincingly occupy the field of contactless encoders. They close the gap between simple and heavy-duty application requirements, such as in plants, laboratory equipment, medical apparatus and facilities for renewable energy production.
The HTx36 encoder family is one of the most robust encoders with magnetic sensor technology in the MEGATRON product range. This is what the massive aluminium housing, a double-ball-bearing, a stainless steel shaft and the high IP protection grade are standing for, in combination with a modern 3D Hall gradient-based magnetic sensor technology with μProcessor-based digital signal processing.
The encoder design of the HTx36 series is based on MEGATRON's growing wealth of experience gained in thousands of projects over more than sixty years. The result is a modular system consisting of components of outstanding quality. The resulting encoders have a high level of compatibility with many standard applications and are also equipped with the ability to be optimally adapted to the respective application requirements. The modular encoder concept allows prompt customer-specific adaptations, even in small series, on the basis of a clearly structured price model. Typical modifications are a customer-specific shaft geometry, the signal output function, special cable lengths or individually assembled electrical connection cables.
HTx36 encoders have a maximum lifespan within their specifications and leave contact-based sensor technology far behind in terms of lifespan, continuous actuation speed, stability and repeatability of the measurement results. In a direct comparison of technologies, even the robust optical measurement value detection has its disadvantage in terms of lifespan. Long-term monitoring of MEGATRON encoders in terms of the number of defects or failures shows that the rate is practically zero, even after decades of use, and they are rightly referred to as endurance runners or "Infini(ty) turns".