Typical applications:
Rotary encoder for detecting the angular position and number of revolutions of a roller on a machine
Joystick for fine positioning or setting up machines
Potentiometer for detecting the position of an industrial garage door
Industry applications
Close
Rotary encoder and a displacement sensor
Control of a compensating roller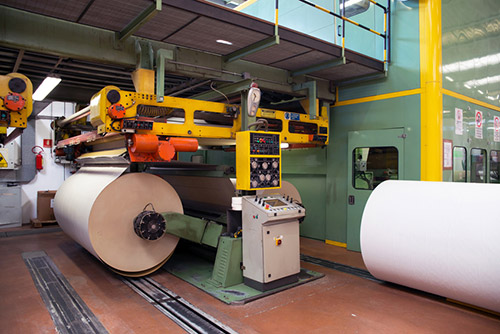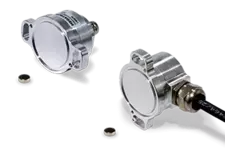 Sensor technology with a long service life, thanks to robust design and a wear-free sensor principle
Sensors are not affected by environmental stress
Encoder HTx25K
Compensating rolls are used, for example, in printing plants to compensate for variations in the tension of the paper web. The position of the compensating roll is determined either linearly or rotatably. Depending on the machine design, the recommended products are our magnetostrictive linear sensors (from the OMS2 series) for linear detection or our Hall-effect angle sensors (from the HTx25K series) for rotary detection. Both sensor types support wear-free and dust-proof operation, making them highly durable. The rotary encoders and displacement sensors are housed in a metal enclosure to provide a high degree of protection. In addition, the robust sensor design means they can withstand a wide range of oscillating movements. The connectors of both sensors are also adapted to environmental requirements: The OMS2 series displacement sensors are equipped with a robust connector, and the HTx25K series encoders are connected via a strain-relieved round cable.
All in all, the displacement and angle sensors are not susceptible to environmental stress. As such, they make a significant contribution to the smooth, reliable and long-lasting operation of the system.
---
ETA25PM flexible and configurable multiturn encoder
For ventilation and shading drives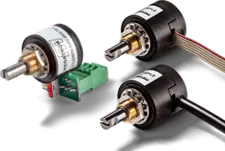 Multiturn encoder eliminates gear stage, helping to reduce drive costs
Programmable encoder reduces process and inventory costs
Encoder ETA25PM
The ETA25PM series of programmable multi-turn encoders is ideal for implementing window drive systems in greenhouses. The compact encoder is capable of absolute detection of up to 200 revolutions, eliminating the need for a gear stage at the design phase. As drives are usually offered with a fixed rotational speed, you would normally need to stock several types of encoders to ensure you have the right rotational range for each application. Or, simply use our angle sensor: It can be programmed to provide different electrically effective ranges of rotation from 0° to 72000°. This means that a single component or encoder type can be used for any application, simply by setting the required angle of rotation.
The multi-turn encoder offers high resolution, enabling extremely accurate positioning. It reliably transmits a high quality signal without interruption. As the MEGATRON multi-turn encoder operates without a mechanical end stop, accidental overshooting of the measuring range, which can occur when the drive starts up, will not destroy the rotary angle sensor. The non-contact measuring principle does not rely on a drag contact, so there is no mechanical wear. This results in very long sensor life and reliable operation.
Only one type of rotary angle sensor is required to ensure correct window repositioning by the drive. These features make the ETA25PM series magnetic encoders the ideal product for flexibly adjustable drives.
---
Joystick-based control of sewer inspection systems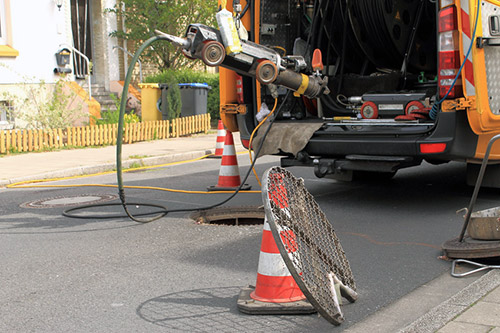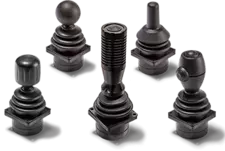 Integration of additional functions into the joystick for ease of operation
Highly robust and accurate joystick, built to withstand a high number of motion cycles
Joystick 844
Sewerage networks are inspected using complex remote-controlled camera vehicles. These are called sewer inspection systems and are controlled by built-in cameras and one or more multipurpose joysticks. Additional functions, such as dedicated joystick buttons, simplify the task. The complex navigation and control procedures inherent in this field of work result in an extremely high level of motion cycles. In other words, the joystick is in constant use and must therefore have a correspondingly long service life.
The mechanical design of MEGATRON's series 844 finger joysticks is ideally suited to this task. These precision finger joysticks are particularly durable and easily meet the demanding requirements. In addition, the contact-free Hall effect sensors in the joystick show no wear.
The low installation depth of the analogue joystick (with optional PWM output) makes it easy to integrate into the control panel. As requested by the customer, we have also adapted the cable length for installation and added a connector. This allows the inspection unit's camera to be conveniently controlled via the joystick, enabling easy and reliable navigation of the sewer network.
---
Milling excavator
Manual setting of the cutting depth with RP19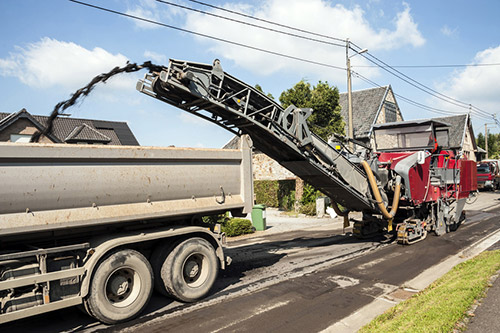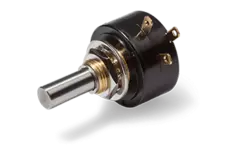 Optimized haptics and rotational resistance ensure perfect operation under extreme conditions
The wire-wound potentiometer is sealed off for heavy-duty operation in wet and dirty environments
Potentiometer RP19
Dust, dirt and strong vibrations are particularly detrimental to the functionality of sensors. Despite these hazards, setting and operating the roadwork machine must be made as simple, precise and reliable as possible. Due to the vibrations and the fact that the machine operator wears gloves, the control unit needs to have a comfortable grip and the perfect level of rotational resistance, so that it is 'noticeable'. The wire-wound potentiometers, which are part of the RP19 product series, are particularly suitable for this task as they feature an excellent, customizable snap-in mechanism. This snap-in quality of the rotary knob is readily perceptible at the control unit, even through gloves. In order to protect the sensor array from intruding dust and moisture, we have equipped the wire-wound potentiometer with a washer. Vibrations are absorbed by a corrugated disk that we insert as an added precaution. The axis length of the wire-wound potentiometer has been adjusted to facilitate assembly with the control knob through the control panel. Thanks to this optimized MEGATRON rotary knob design, the machine is 'good to cut'. The cutting depth can then be set manually as required, in a precise and reliable manner.
Scroll