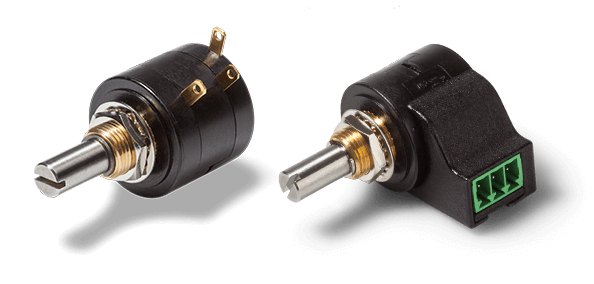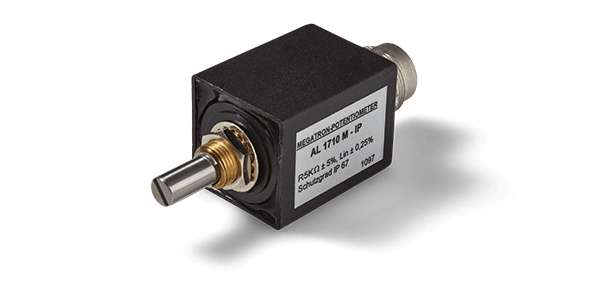 Multiturn Wirewound Potentiometer AL17/19
Economical multiturn potentiometer with high precision in Ø22 mm housing and many options
Economical and precise multiturn sensor
Suitable for a wide range of applications thanks to numerous options
Simplified installation thanks to connector version
With optional slipping clutch
Optionally available as 1-turn version with 360°
Optionally completely encapsulated housing (IP67)
| | |
| --- | --- |
| Resolution | Depends on resistance value |
| Functions / Features | With mech. stop, Opt. multiganged/ tandem, Opt. rear shaft |
| Output signal | Analogue |
| Protection class | IP40 (optional IP67) |
| Sensor technology | Wirewound Potentiometer |
| Shaft diameter | 6.00 mm, 6.35 mm |
| Housing diameter | 22 mm |
| Mounting | Bushing |
| Electrical connection | Radial, Solder contacts, Terminal connection |
| Effective electrical angle of rotation | Up to 3600° |
| Housing depth | min. 19 mm |
Product description: Multiturn Wirewound Potentiometer AL17/19
The AL17/19 potentiometers in Ø22 mm housing are suitable for applications where a precise and economical multiturn potentiometer is important.
The precision potentiometers of the AL17/19 series are manufactured under the highest quality requirements. In particular, the made of the wirewound resistance element, which is manufactured with know-how of great mechanical precision, stands out among the high-quality components. As a result, the AL17/19 series has superior technical characteristics and enjoys great popularity due to its cost efficiency and numerous customization possibilities.
The AL17 / AL19 multiturn potentiometers (standard shaft: Ø6.35 / Ø6.00 mm) are available as 3-, 5- or 10-turn versions. The screwdriver slot already positioned on the shaft makes a zero-point adjustment convenient. Two connection variants are available for electrical coupling:
version with radially gold-plated connection pins - suitable for blade terminals (2.8 mm) according to DIN 46247 part 3
version with completely factory-assembled connector - simplifies assembly and serves to prevent short-circuits.
For optimal integration into the application, the following options are available: linearity, resistance value and tolerances, shaft geometry (front or rear) as well as tandem-/multi-gang alignment or special sealing (completely enclosed IP67).
ALR17/19 with "integrated slipping clutch":
Multiturn potentiometers have so-called end stops so that the wiper does not "slide" behind the edges of the resistor track. The option "integrated slipping clutch" protects the potentiometer from overstressing / mechanical damage of the end stops. We recommend this option for applications in which overrunning of the resistance track cannot be generally avoided.
The potentiometers of the AL17/19 series are precision potentiometers. In comparison to commercially available low-cost potentiometers, they have a significantly higher lifespan, reliability and quality. As a result, they offer precise position measurements with a significantly longer operating time than low-cost potentiometers, which consequently results in lower maintenance costs or reduced downtime of applications.
Economical and precise multi-turn sensor
Simplified mounting due to connector version
Optionally with an integrated slipping clutch
Many other options are available
Options:
Front shaft sealing
Connector version
Improved linearity
Improved resistance tolerance
Rear shaft and shaft geometry
Front shaft modification
Center tap
Tandem version
Housing protection IP67
We offer many adaptations on request: Tandem- or multi ganged potentiometers, sealed housing case, special electrical and mechanical angles of rotation, and special resistance and linearity tolerances. Furthermore, we can mount gear wheels or attach cable assemblies with or without connectors and much more. Please use our request form and describe your application, so we can determine the optimal product for your design-in.