Multiturn potentiometers up to 3600° with hybrid resistance element
Hybrid potentiometers are multi-turn potentiometers for measuring ranges up to 3600° and have the advantages of conductive plastic potentiometers in terms of signal quality, resolution and lifespan. They represent a hybrid solution between wirewound and conductive plastic potentiometers.
The resistance element of hybrid potentiometers consists of a wire-wound resistor element which is covered with conductive plastic. This technology allows the measuring range with up to 3600° and the advantages of conductive plastic. Thanks to the conductive plastic layer, the stepped voltage output of wire-wound elements are suppressed and a continuous signal without steps is generated.
Hybrid potentiometers should be operated at lower current load than wirewound potentiometers. As with all conductive plastic potentiometers, the wiper current must be kept as low as possible. Thus, the one should use a voltage divider circuit. We are happy to fulfill product-specific adaptations for the optimal "design-in" in the respective application.
---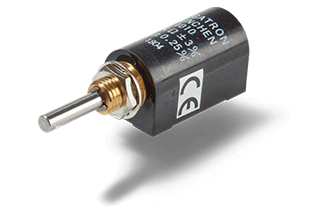 Miniature multiturn hybrid potentiometer AL11
Smallest hybrid potentiometer of the world in Ø13 mm housing with long lifespan and low signal noise
Miniaturized and precise 10-turn potentiometer
Versions for direct PCB mounting
≥ 10 million movements
Low signal noise thanks to hybrid technology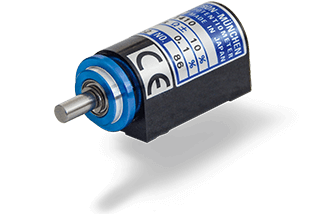 Multiturn-Hybrid-Potentiometer AL14
Smallest hybrid multiturn potentiometer in the world thanks to Ø13 mm housing. Long lifespan and very accurate.
Very precise potentiometer
Long lifespan
Compact construction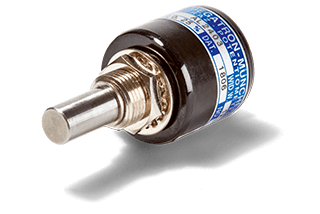 Hybrid potentiometer AL24
High-resolution and long-lasting multi-turn potentiometer with very low signal noise in Ø20 mm housing
Very high resolution and durable due to hybrid technology
Very accurate and robust
Low-noise signal - no winding jumps thanks to hybrid technology
With many options e.g. shaft sealing, tandem, limit switch, slipping clutch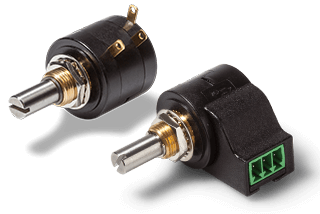 Multiturn Hybrid Potentiometer HH17/19
Economical, high-resolution and long-lasting multiturn potentiometer with very low signal noise in Ø22 mm housing
Economical and durable multiturn potentiometer
High resolution - no winding jumps thanks to hybrid technology
Simplified mounting due to connector version
Suitable for a wide range of applications thanks to numerous options
Version HHR17/19 with integrated slipping clutch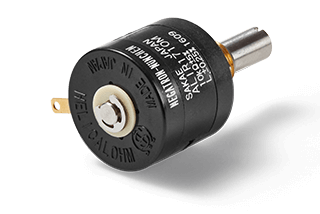 Multiturn Hybrid Potentiometer HHI17/19
High-resolution and long-lasting potentiometer in 22 mm housing, optimized for radial shaft load
Very high-resolution, long-lasting and clean signal
Robust due to reinforced bearing - up to 4 N
Simplified mounting due to connector
Version HHIR17/19 with slipping clutch
With many options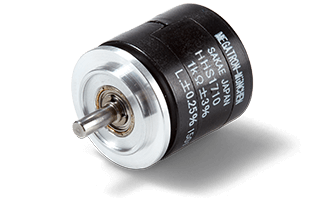 Multiturn hybrid potentiometer HHS17
High-resolution and long-lasting multiturn potentiometer with very low signal noise in 22 mm servo flange housing
Very high-resolution, long-lasting and clean signal
No winding jumps due to hybrid technology
Optional version HHS17xxR with slipping clutch
With many options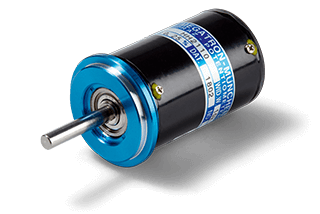 Mulitturn-Hybrid Potentiometer HH21
High-resolution and long-lasting multi-turn potentiometer with very low signal noise in Ø20 mm servo flange housing
Very high resolution and durability
Clean signal - no winding jumps thanks to hybrid technology
Servo flange for precise zero point adjustment
Optional center tap, limit switch, slipping clutch and more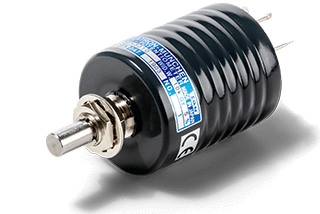 Multiturn hybrid potentiometer oil-filled OFH
Oil-filled and precise hybrid potentiometer OFH with long life span in Ø32 mm housing
Oil-filled potentiometer
Long lifespan
Optional center tap