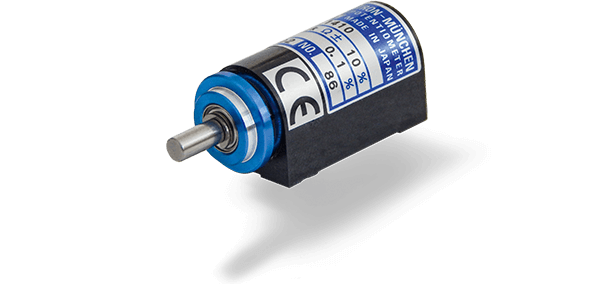 Multiturn-Hybrid-Potentiometer AL14
Smallest hybrid multiturn potentiometer in the world thanks to Ø13 mm housing. Long lifespan and very accurate.
Very precise potentiometer
Long lifespan
Compact construction
| | |
| --- | --- |
| Resolution | Nearly infinite |
| Functions / Features | With mech. stop |
| Output signal | Analogue |
| Protection class | IP40 |
| Sensor technology | Hybrid Potentiometer |
| Shaft diameter | 3.17 mm |
| Housing diameter | 13 mm |
| Mounting | Servo flange, opt. PCB mounting |
| Electrical connection | Radial, Solder contacts |
| Effective electrical angle of rotation | max. 3600° |
| Housing depth | min. 28.2 mm |
Product description: Multiturn-Hybrid-Potentiometer AL14
The potentiometers of AL14 series are for applications where a very accurate and compact multiturn potentiometer with only Ø13 mm housing and servo flange is required.
The precision potentiometers of the AL14 series have a very compact design. The high-quality hybrid technology and ball-bearing guarantee a life span of more than 10 million shaft revolutions. Due to the very good accuracy, the multi-turn potentiometer is used, for example, in measuring machines or in semiconductor manufacturing.
Very precise sensor
Long lifespan
Compact construction
Options:
Improved linearity
Improved resistance tolerance
Front shaft adaptation
We offer many adaptations on request: Sealed housing case, special electrical and mechanical angles of rotation, and special resistance and linearity tolerances. Furthermore, we can mount gear wheels or attach cable assemblies with or without connectors and much more. Please use our request form and describe your application, so we can determine the optimal product for your design-in.