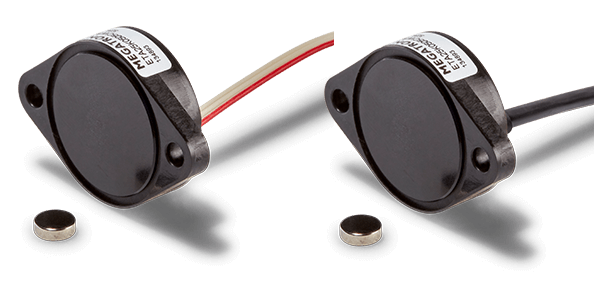 Hall Encoder ETx25K as kit versions
Rotary encoder in compact kit design (8 mm housing depth) with flange mounting and wide variety of electronics and software options in single or multiturn variants
Single or multiturn encoder
µProcessor with digital signal processing, programmable
Analogue, incremental or SER, SPI interfaces
Housing with very low depth (8 mm)
Flange mounting (magnet included)
High variety of options and variants
Developed and manufactured in Germany
| | |
| --- | --- |
| Resolution | Incremental ≥ 1000 ppr., Absolute 12 bit, Absolute 14 bit |
| Functions / Features | Without mech. stop, Kit-Encoder, Customer programmable |
| Output signal | Analogue, Serial, Incremental, PWM |
| Protection class | Up to IP67 |
| Sensor technology | Hall Effect Encoder |
| Housing diameter | 25 mm |
| Mounting | Flange |
| Electrical connection | Axial, Strands, Cable |
| Effective electrical angle of rotation | 0...10° up to 0...72000° |
| Housing depth | 8 mm |
Product description: Hall Encoder ETx25K as kit versions
ETx25K kit encoders are used for reliable angle measurement from a shaft which is installed in the application: as single turn variant (360°) with analogue, PWM, incremental, SER or SPI output, or as a multiturn variant (up to 72000°) with analogue output. ETx25K can be used up to medium environmental requirements (IP67)
Like all encoders of the ETx25 class, the ETx25K family is part of this sensor platform. What these rotary encoders have in common is the contactless angle measurement, the high reliability, the long lifespan and the independent linearity of up to ±0.3%.for single turn and 0.05%@3600° for muliturn variants.

The ETx25K kit encoder in Ø25 mm housing is fastened by means of two pieces of M3 screws (screws not included in delivery). The compact design is characterized by a very small housing depth, with only 8 mm. The magnet is positioned on a shaft in the application facing the front of the ETx25K housing. There is no mechanical junction between the magnet and the encoder housing, so the encoder can be decoupled positioned from vibrations and thermals of the application. So, the ETx25K kit encoder technology is superior in comparison to potentiometers with hollow shaft, in terms of maximum permissible actuation speed, lifespan and resistance to vibrations and shocks. To protect against ingress of liquid and dust, there is in the front housing of the ETx25K a circular groove for an optional O-ring, which is inserted between the mounting panel and the encoder. Electrical connection options like round or flat ribbon cable complete the profile.
The ETA25K PM is a multiturn kit encoder. It is factory programmed to an effective electrical angle of rotation of 10 turns = 3600°. On request, other user-defined effective electrical angles of rotation can be ordered as an option, or it can be programmed by the user itself (up to 72000°). For a quick, safe and easy user programming of the ETA25K PM, MEGATRON recommends the optional available programming device. The programming device is needed only once. With the programming device, any number of ETA25K PM rotary encoders can be programmed. The user-supported programming is also possible by creating an external circuit. How the external circuit shall be built is described in the programming guide.

It can be chosen between following electronics:

Singleturn electronics:
ETA25K absolute analogue encoder (ETA25K X redundant version): Provides an absolute analogue signal with 12 bits resolution. The ETA25K X for safety-critical applications has two independent power supplies and galvanically isolated signal outputs
ETP25K absolute analogue encoder: Pulswidth output (PWM)
ETI25K incremental encoder: With up to 1024 pulses / per revolution and availability of following output signals: TTL, Push-Pull or Open Collector.
ETS25K absolute encoder with digital output: 12 bits resolution with SER interface and in 14 bits resolution with SPI interface
Multiturn electronics:
ETP25K PM multiturn encoder with analogue output, direct programmable on site: Only one device for different angles of rotation, sense of rotation. Only one angle encoder device for different requirements is needed, which can be programmed almost as often as required. The ETA25K PM measures angles from 0…10° up to 0...72000° (absolute). The encoders are therefore also suitable for angles under 360° in singleturn applications that are to be programmed.
The modular design of the ETx25K family offers the possibility to choose between different electronic variants with different voltage supplies as well as electrical interfaces. For example as interfaces it can be chosen between current and voltage outputs, SER / SPI, incremental or PWM outputs. The large number of standard variants can be also adapted or expanded with customer-specific solutions. As a result, hundreds of possible combinations can be combined and ordered. Popular options are, for example, the change of the sense of rotation from CW (clockwise) to CCW (counterclockwise), user-defined rotation angles.