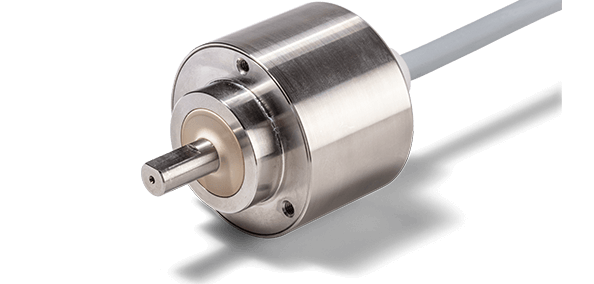 Extremely robust encoder FHx58
Certified resistance to cleaning agents and disinfectants, tested hygienic construction. Salt-mist resistant housing in IP67+IP69k for high pressure/steam jet cleaning
Optimal for the food industry and pharmaceuticals, perfect for offshore applications
As absolute encoder (Hall sensor) up to 16 bit singleturn / 43 bit multiturn
Battery and gearless multiturn (energy harvesting)
CANopen, CAN SAE J1939, SSI Gray/Binary
As optoelectronic incremental encoder up to 25000 ppr.
ABZ, A, A/,B, B/,Z, Z/ differential, TTL, TTL+RS422 compatible, HTL
EWS warning system 1000h before encoder failure
Made in Germany
| | |
| --- | --- |
| Resolution | max. 16 bit (singleturn), 43 bit (multiturn) / max. 25.000 ppr. |
| Functions / Features | Without mech. stop, True Power ON, Customer-programmable, Metal housing |
| Output signal | CANopen, CAN SAE J1939, Incremental, SSI |
| Protection class | Up to IP69K |
| Sensor technology | 3D Hall or optoelectronical |
| Shaft diameter | 10.00 mm |
| Housing diameter | 58 mm |
| Mounting | Servo flange |
| Electrical connection | Axial, Radial, Cable |
| Effective electrical angle of rotation | max. 3.2·10^15 Degrees (multiturn resolution max. 43 bit) |
| Housing depth | min. 42 mm / max. 53 mm |
Product description: Extremely robust encoder FHx58
The FHx58 family is ideally suited for use in the food industry, pharmaceuticals and offshore applications.
FHx58 encoders are available in two sensor technologies:
Optoelectronic: incremental encoder (FHI58)
3D Hall: absolute encoder (FHB58 & FHS58)
The high-class mechanical encoder design is independent of the installed sensor technology. High-quality ball bearings allow shaft loads up to 100 N. The dead-space-free sealing and bearings elements guarantee a wobble free shaft operation and ensures that no impurities can infiltrate. The FHx58 can be cleaned with high pressure and steam jets (IP67/P69k). The stainless steel encoder body which is specially surface-treated in combination with PTFE, TPE sealing elements allow that the FHx58 can be used in applications with high hygienic standards. Precisely it is this design which allows to operate the FHx58 also in salty atmospheres permanently or to clean the encoder with cleaning-fluids containing acids and chemicals.
But not only the encoder's housing and mechanics, also the built-in electronics, impress by their high-quality thanks to high-durable components. FHx58 encoders are designed for an average lifetime of at least 20 years of operation and some electronics have a Mean Time to Failure (MTTF) up to 1000 years.
Curious? Then let's talk about the FHx58 in your application.
Salt spray resistant encoder housing according to DIN EN60068-2-11
ECOLAB certified design for high resistance to cleaning agents and disinfectants
EHEDG approved hygienic design
IP67+IP69k for high pressure/steam jet cleaning