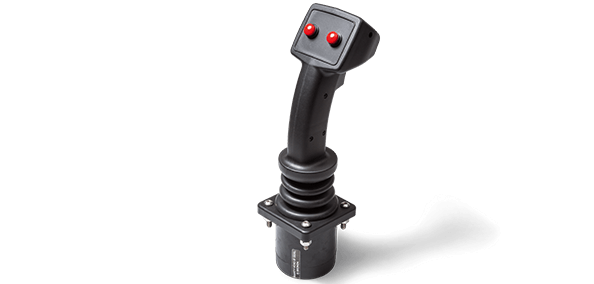 Hand Joystick TRY81
Large multifunctional and customizable hand joystick for rough environments
Ergonomic cobra-shaped multifunction handle for control of complex machines
Equipped with contactless Hall sensors for long-term stable electronics
Various configuration options for rockers, switches, thumb joysticks
Up to 3 Axes with rotatable handle
Additional degrees of freedom with additional thumb joystick/thumb wheels
Up to 10 millions cycles for long-term operation
IP class up to 63 depending on configuration
Analogue outputs, USB or CANOpen/CAN SAE J1939 interface available (optionally redundant)
| | |
| --- | --- |
| Axes | 1, 2, 3 |
| Output interface | Analog, USB, CAN (J1939), Voltage Regulator |
| Size | Hand Joystick |
| Return Mechanism | Spring Return |
| Technology | Hall Effect |
| Housing depth under panel | ≤ 69 mm |
| Number of Pushbuttons | 0, 1, 2, 3, ≥4 |
| Sealing above panel | IP63 or better depending on handle configuration |
| Limiter plate | Square, Round, Plus, Slotted y direction (1 axis), Slotted x direction (1 axis) |
Product description: Hand Joystick TRY81
Rugged, reliable and customizable
The large handgrip joysticks of the TRY81 series with cobra handle were specially developed for the multi-axis control of various application environments, where many input elements are needed. Typical applications involve in cabs of vehicles, for example for handling/logistics, snow removal and street cleaning.
The joystick design can be individualized for the application through specific functional configurations with mini-joysticks, rockers, buttons above and below the joystick head. The ergonomic design of the Cobra knob ensures that the additional functions are accessible. When selecting the three axis variant, the entire handle can be rotated as a third main axis.
The main sensors for measuring the angular position of the knob are Hall sensors, which have the advantage of the contactless measuring principle and therefore show only minimal drift of the output signal over many years of operation. For safety-critical applications, the sensors are also available as redundant versions and a dead man's switch can also be integrated into the handle.