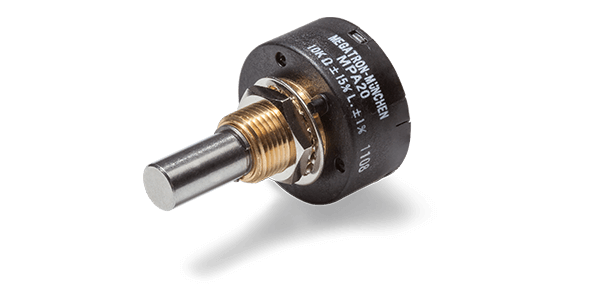 Conductive Plastic Potentiometer MPA20/21
Durable and accurate precision potentiometer in Ø22 mm housing and low installation depth
High durability and accuracy
Electrical effective angle of rotation up to 340°
Housing depth only 10.6 mm
Axially aligned ports
With or without mechanical end stop (320°/360°)
| | |
| --- | --- |
| Resolution | Nearly infinite |
| Functions / Features | Without mech. stop, With mech. stop |
| Output signal | Analogue |
| Protection class | IP40 (optional IP65) |
| Sensor technology | Conductive Plastic Potentiometer |
| Shaft diameter | 6.00 mm, 6.35 mm |
| Housing diameter | 22 mm |
| Mounting | Bushing |
| Electrical connection | Axial, Solder contacts |
| Effective electrical angle of rotation | max. 340° |
| Housing depth | min. 10.6 mm |
Product description: Conductive Plastic Potentiometer MPA20/21
The MPA20/21 potentiometer series in Ø22 mm housing is ideal for applications in which highly precise and durable sensors are required.
Thanks to the high-quality Comolded conductive plastic technology that is used, the conductive plastic potentiometer MPA20/21 (MPA21 with mech. End-stop) is sure to impress with its amazing accuracy and durability.
Highly durable and independent linearity ±1% (±0,5%)
With or without mechanical end stop (320°/360°)
Adaptation / Options:
Front sealing of the shaft
Front shaft adaptation
Shaft diameter 6.00 mm
Screwdriver slot
Center tapping
Improved linearity
Improved resistance tolerance
Note: The versions of the MPA21 with a mechanical stop can also be used as manual set-point adjusters
We offer many adaptations on request, such as:
Sealed housing case, special electrical angles of rotation, and special resistance and linearity tolerances. Furthermore, we can mount gear wheels or attach cable assemblies with or without connectors and much more. Please use our inquiry form and describe for which application you want to use the product so that we are able to determine the optimal product for your design-in.