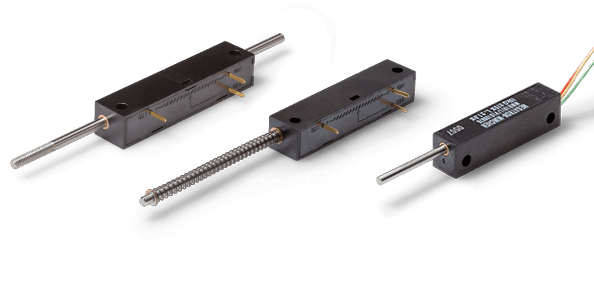 Potentiometric Linear Transducer MM10
Linear transducer in miniature design with rear and front guided push rod for 8 mm to 15 mm strokes
Linear potentiometer with almost infinite resolution
Space-saving mini design
Measuring lengths from 8 to 15 mm
Rear and front guided push rod
Long lifetime
| | |
| --- | --- |
| Effective electrical travel | From 8 to 15 mm in 4 variants |
| Sensor Technology | Potentiometric |
| Protection Class | Up to IP54 (standard IP40) |
| Mechanical Detection Type | Front and rear side rod with/without spring return |
| Electrical Outlet Type | Solder contacts, Strands |
| Mounting | Screw Mounting / Bore Holes |
| Actuating speed | < 2 m/s |
| Resolution | Analogue stepless |
| Ind. linearity (best) | ±1% … ±2% (dep. on option) |
| Min. operating temperature | -30 °C |
| Max. operating temperature | +105 °C |
| Supply voltage | Potentiometric |
| Electr. output signal | (voltage - potentiometric) |
| Minimum overall length | Small (< 15 cm) |
Product description: Potentiometric Linear Transducer MM10
The series MM10 without spring return / MMR10 with spring return is used in applications with very confined space, which require a miniaturized displacement sensor with long lifespan, high accuracy and guided push rod on both sides.
The linear potentiometers of the series MM10 / MMR10 are especially space-saving designed and therefore very suitable for applications with very confined space. The potentiometric distance measurement is carried out with a high-resolution conductive plastic resistive element. Thanks to this Comolded conductive plastic technology and the high-quality sleeve bearings, the compact displacement encoder has a very long lifetime and high accuracy due to its good linearity. Since the potentiometric measuring principle delivers absolute values and requires no electronic conversion, the position feedback signal is true power on without delay, temperature stable and robust against EMC influences.
In the displacement sensor series MM(R)10 the mechanical detection of linear movement is done by a rear and front guided push rod. The displacement sensor can be used both as a probe and with a guided push rod. The internal or external spring return opens up additional applications. The linear potentiometer MM(R)10-15 with soldering pins is designed for direct integration on printed circuit boards. Customization on the cable (length, finishing with plug) or on the push rod (length, thread, flat ...) are available on request.