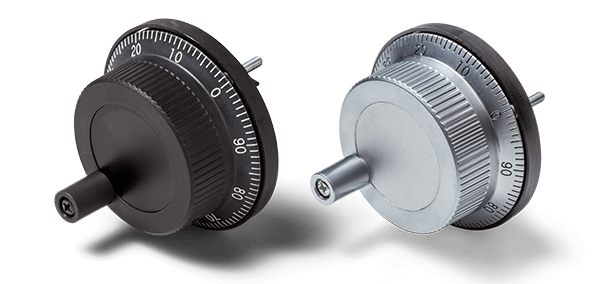 Optoelectronic Handwheel MHU
Robust Ø60 mm handwheel with 100 detents and very small installation depth is perfect for fast setpoint specification
High-quality Ø60 mm knob with 100 detents and crank
Small installation depth only 9.7 mm
Resolution 25 or 100 ppr.
Optionally in IP64
NPN or line driver output
Compatible with MELDAS and FANUC
Screw terminals as electrical connection
5V power supply
| | |
| --- | --- |
| Resolution | max. 100 ppr. |
| Functions / Features | With adjustment knob and 100 detents |
| Output signal | Incremental |
| Protection class | Up to IP64 |
| Sensor technology | Optical Encoder |
| Mounting | Threaded holes |
| Electrical connection | Axial, Terminal connection |
| Effective electrical angle of rotation | max. 360° |
| Housing depth | min. 9.7 mm |
Product description: Optoelectronic Handwheel MHU
The handwheel of the MHU series is a true all-rounder, robust and with good haptics
With a knob diameter of 60 mm, the handwheel allows precise and fast setpoint presetting. During a fast turning movement, the handwheel does not stop abruptly after releasing the crank or knob, but runs for a short time. The mechanical detent is clearly visible on the button in 100 dashes. The input device is available in black or silver, the resolution in 25 or 100 pulses per revolution. The optionally available line driver ensures a particularly secure signal transmission. The variety of electrical outputs makes the MHU series compatible with FANUC and MELDAS specifications.
Due to the low installation depth of <10 mm, manual input terminals can be realized in a flat design. The product design and IP64 stand for reliable operation, even in contaminated environments. The handwheel is preferably used to control machine tools such as CNC and milling machines, as well as test benches.
The MEGATRON quality stands for the fact that the haptic properties such as detent torque and shaft play are subjected to only minor changes even after many 100,000 operations.