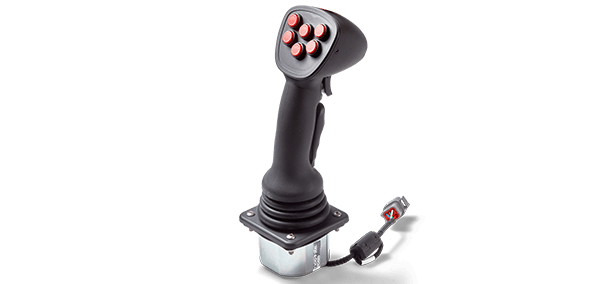 Hand Joystick TRY54
Cutting-edge, ergonomic CANBus joystick with cobra handle
CANBus joystick (CAN SAE J1939-71 or CANOpen)
SIL 2 capable
Reliability through redundant Hall sensors
Withstands axial loads of more than 1700 N
Up to 10 million movement cycles
Low installation depth
| | |
| --- | --- |
| Axes | 1, 2, 3, ≥ 4 |
| Output interface | CANopen, CAN J1939 |
| Size | Hand Joystick |
| Return Mechanism | Spring Return |
| Technology | Hall Effect |
| Housing depth under panel | ≤ 40 mm |
| Number of Pushbuttons | 0, 1, 2, 3, ≥4 |
| Sealing above panel | Up to IP67 depending on handle configuration |
| Limiter plate | Square, Slotted y direction (1 axis), Slotted x direction (1 axis) |
Product description: Hand Joystick TRY54
Individual configurations, ergonomic – and always reliable
The TRY54 was developed specifically for the high demands of heavy-duty and off-road use. The use of metal components and optimized dimensioning of the mechanism and control lever result in an individually configurable joystick with the robustness of larger models and increased ergonomics in reduced dimensions.
Often the lever's return behaviour and spring strength have to be customized separately in order to meet the requirements of the application in terms of haptics. The TRY54 is available with two different spring strengths and can optionally be configured with "guided feel", so that the diagonal deflection requires more force than that of the two main axes (forwards / backwards, left / right).
The joystick's design can be individualized for the application through specific input elements such as mini-joysticks, rockers, thumb wheels, dead man's switches, and buttons on the head plate. For example, 2 thumb wheels can optionally be installed, so that the joystick can be equipped with up to 4 proportional axes. The ergonomic design of the Cobra knob ensures that these additional functions can be reached.
The joystick is always equipped with redundant Hall sensors and thus offers the advantages of increased reliability and the contactless measuring principle, which shows only minimal drift of the output signal over many years of operation.
SIL 2 capable - Reliability through redundant Hall sensors
Withstands axial loads up to 1780 N with up to 10 million movement cycles
Low installation depth for space-saving positioning in operator landscapes
Available with the interfaces CAN SAE J1939-71 or CANOpen
Handle can be deflected in 1 or 2 axes, additional axes possible using a mini-joystick in the head plate
In order to cope with harsh environmental conditions, the joystick is resistant to many environmental influences:
Sealing up to IP67
Humidity (IEC 60068-2-38)
Salt spray (IEC 60068-2-11)
Random (IEC 60068-2-64) and sinusoidal (IEC 60068-2-6) vibrations