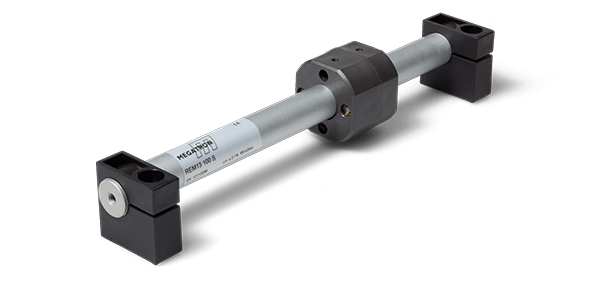 Potentiometric Linear Transducer REM13
Compact displacement sensor in space-saving design for 20 bar operating pressure in protection class IP67 for 50 mm to 1000 mm
Space-saving and compact construction
With external magnetic cursor
High degree of protection IP67 and operating pressure up to 20 bar
Measuring lengths from 50 to 1000 mm
With cable or plug
Cursor with or without ball joint
| | |
| --- | --- |
| Effective electrical travel | From 50 to 1000 mm in 20 variants |
| Sensor Technology | Potentiometric |
| Protection Class | IP67 |
| Mechanical Detection Type | Guided cursor |
| Electrical Outlet Type | Round Cable, Connector |
| Mounting | Mounting Brackets / Assembly Block |
| Actuating speed | ≤ 5 m/s |
| Resolution | Analogue stepless |
| Ind. linearity (best) | ±0.05% … ±0.1% (dep. on travel) |
| Min. operating temperature | -30 °C |
| Max. operating temperature | +100 °C |
| Supply voltage | Potentiometric |
| Electr. output signal | (voltage - potentiometric) |
| Minimum overall length | Small (< 15 cm), Medium (15 to 50 cm), Long (> 50 cm) |
Product description: Potentiometric Linear Transducer REM13
The compact linear transducers REM13 are used in applications with up to 20 bar operating pressure, which require a displacement sensor with external cursor, high durability and accuracy in the measuring lengths from 50 to 1000 mm.
In the displacement sensor series REM13, the mechanical detection of linear movements is done by a magnetic cursor. The construction prevents ingress of dirt or dust to the sensor element. On that way, IP67 protection is reached for rough environmental conditions. The small diameter of the tube with only 13 mm and the cursor construction make the integration space-saving and easy. There are versions with cable or plug and cursors with or without ball joint available.
To ensure high accuracy and long lifespan, the potentiometric measuring principle is realized with a high-resolution conductive plastic resistance element. Since the potentiometric measuring principle delivers absolute values and requires no electronic conversion, the position feedback signal is true power on without delay, temperature stable and robust against EMC influences.