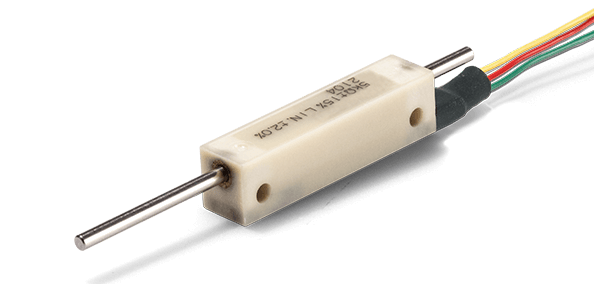 Potentiometric Linear Transducer MLR10
Precise displacement sensor in miniature design with integrated return spring in the measuring length 11 mm
Linear potentiometer with almost infinite resolution
Space-saving miniature design
Measuring stroke 11 mm
Double-bearing push rod
Three electrical connection variants
Long lifetime
| | |
| --- | --- |
| Effective electrical travel | 11 mm |
| Sensor Technology | Potentiometric |
| Protection Class | IP40 |
| Mechanical Detection Type | Front and rear side rod with spring return |
| Electrical Outlet Type | Hirose plug (with 3 single strands supplied or firmly assembled) |
| Mounting | Screw Mounting / Bore Holes |
| Actuating speed | < 2 m/s |
| Resolution | Analogue stepless |
| Ind. linearity (best) | ≤ ±2% |
| Min. operating temperature | -30 °C |
| Max. operating temperature | +105 °C |
| Supply voltage | Potentiometric |
| Electr. output signal | (voltage - potentiometric) |
| Minimum overall length | Small (< 15 cm) |
Product description: Potentiometric Linear Transducer MLR10
The MLR10 series with integrated return spring is used as a measuring probe in applications with very limited space conditions.
The miniaturized linear potentiometer is ideal for scanning measuring strokes in confined spaces. Thanks to the potentiometric conductive plastic technology, the potentiometer has a long lifespan and accuracy with almost infinite resolution. The output signal is stepless and immediately available without calculation times. The sensor principle is insensitive to EMC influences.
There are three electrical connection variants to choose from and customer-specific adaptations to the cable (length, assembly with connector) are possible on request.