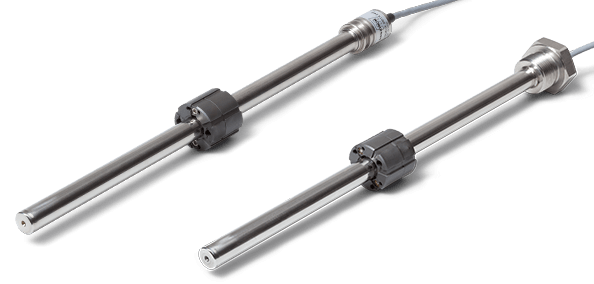 Potentiometric Linear Sensor HEM12E with Electronics
Displacement sensor with integrated signal-converter for hydraulic applications up to 250 bar and IP67 protection for 50 to 1000 mm strokes
With integrated signal-converter
High degree of protection IP67 and max. 250 bar operating pressure
With external magnetic drag - capsule of the sensor element
Mounting via internal or external flange
Measuring lengths from 50 mm to 1000 mm
Long lifetime (up to 100 million movements)
| | |
| --- | --- |
| Effective electrical travel | From 50 to 1000 mm in 8 variants |
| Sensor Technology | Potentiometric |
| Protection Class | IP67 |
| Mechanical Detection Type | Guided cursor |
| Electrical Outlet Type | Round Cable |
| Mounting | Flange |
| Actuating speed | ≤ 5 m/s |
| Resolution | Analogue stepless |
| Ind. linearity (best) | ±0.35 % |
| Min. operating temperature | -30 °C |
| Max. operating temperature | +80 °C |
| Supply voltage | 10..30 V |
| Electr. output signal | 4..20 mA |
| Minimum overall length | Medium (15 to 50 cm), Long (> 50 cm) |
Product description: Potentiometric Linear Sensor HEM12E with Electronics
The displacement sensors of series HEM12E with integrated signal-converter are used in hydraulic applications with max. 250 bar, which require a robust linear transducer with high degree of protection, long lifetime and high accuracy in lengths from 50 to 1000 mm.
The linear potentiometers with integrated signal-converter of the series HEM12E are designed for hydraulic applications with operating pressures of max. 250 bar and peak values of 400 bar. For facilitating electronic integration, the HEM12E series is equipped with an electronic signal converter board inside the flange head. Instead of delicate reference voltage, a simple 24VDC±20% power supply can be used. The analogue signal is provided in the typical form with 4…20mA.
The mechanical detection of linear movements is done by a magnetic drag. The construction prevents ingress of dirt or dust to the sensor element. On that way, IP67 protection is reached for rough environmental conditions. For mechanical coupling, the displacement sensors are available with internal or external flange.
The potentiometric distance measurement is carried out with a high-resolution conductive plastic resistive element. The displacement encoder has a very long lifetime and high accuracy due to its good linearity.
Customization on the cable (length, finishing with plug) or on the push rod (length, thread, flat ...) are available on request.