Joysticks for safety engineering solutions
Fatigue-free and simple operation of surveillance cameras
The surveillance systems or the control units for PTZ (pan, tilt, zoom) cameras are often located in dark control rooms. The CCTV cameras are either controlled via joysticks integrated into system control panels or via desktop joysticks equipped with table-top housings.
MEGATRON offers a wide selection of suitable CCTV (closed-circuit television) joysticks for both fields of application, and is happy to provide advice on selecting the joysticks that best meet your needs.
---
Working in dark surroundings – back-lit stand-alone joystick with USB table-top housing MACHV
The desktop joystick from the MACHV series has a USB table-top housing and features individually assignable, illuminated command keys. This makes it easy to work efficiently in dark environments. The individually assignable command keys built into the table-top housing are generally used to change between the connected cameras. This makes it quick and easy for users to select and control the desired surveillance camera. The zoom twist grip in the handle makes it possible to control the object with precision and ease. Desktop joysticks from the MACHV series are therefore perfect CCTV joysticks, and thanks to their USB ports they are ready for out-of-the-box use. The ergonomic shape of the joystick grip also facilitates fatigue-free operation.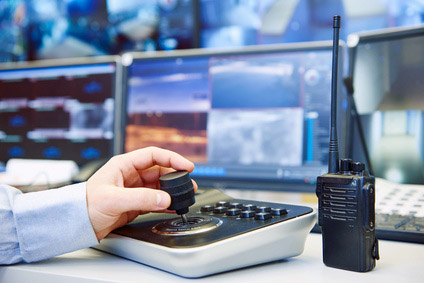 ---
Individual expansion options: Mini joystick 844 integrated into the system control panel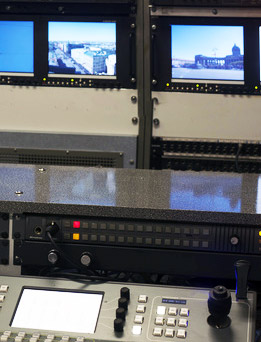 Our precise Hall-effect joysticks come in many versions and feature numerous standard options. Nevertheless, customer-specific adaptations are still fairly common as they facilitate the best possible integration of joysticks into system control panels for security applications. The list of frequently requested tailor-made features includes individual handle designs, a specific number of axes, added functions such as joystick buttons and rocker switches or a custom connector – for MEGATRON, custom-made is the norm!
Our mini joysticks from the 844 series are particularly suited to customization as they only require a very low installation depth beneath the panel and can be freely configured. Our experts have adapted the mini joystick in several ways to precisely meet the customer's needs. These included adding a control function to the joystick grip and even custom developing a turnkey PCB, which included a custom connector.
The geometry and function of the PCB were specifically adapted to meet individual requirements regarding the system control panel. This involved adding multiple control buttons to the outside of the joystick, and integrating a USB interface for PCB connection. The joystick grip was also custom shaped to match the customer's corporate design.
Given all these features, MEGATRON built a completely individualized joystick for the customer, including a PCB with special added functions, in a turnkey design – all ready for assembly into the customer's system control panel.